All my favourite cleansers come from this brand—and they're all under £15
There's a reason every skin expert loves them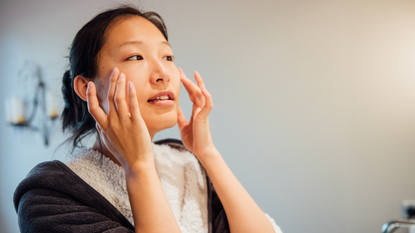 (Image credit: Getty Images)
If there's one high street skincare brand I go wild for, it's CeraVe—and CeraVe cleansers are the stuff of legend (for good reason). I'm often asked for the best cleanser recommendations that don't cost the earth, and truthfully, it's CeraVe I always turn to.
The brand now has an extensive range of cleansing options (as well as other brilliant buys); all of which contain barrier-boosting ceramides for healthy, resilient skin, along with other key ingredients. There's something in there for every skin type and cleansing request, from make-up removal to on-the-go washing. And the best bit? You can buy each and every one for under £15—which in these expensive times, is the ultimate flex.
Dr Alexis Granite, CeraVe's Consultant Dermatologist (and my chosen derm, too), knows just how beloved these cleansers are within the beauty industry (skin experts love them) and wider community: "They're fragrance-free, and super-gentle but incredibly hard-working. Every formula is developed with dermatologists from around the world who share their advice and knowledge regarding skin science and ingredients, and the patented MVE technology ensures gradual release of active ingredients to ensure consistent moisture levels are maintained throughout the day."
But because of the brand's now wide-reaching range, the only problem can be knowing which one to choose. DW, I've got you. Here, I go through the full guide to CeraVe cleansers, complete with recommendations for each skin type and need.
Best all-rounder
CeraVe Hydrating Cleanser
CeraVe Hydrating Cleanser
Perhaps the most popular with beauty editors and derms alike, you just can't beat the Hydrating Cleanser. Most skin types (even those that are on the oily side or are acne-prone) can benefit from more hydration, meaning it's a universal formula. As well as CeraVe's essential ceramides, this contains hyaluronic acid for an extra hit of hydration. It's gentle, can be used morning and night, and works as both a primary and/or secondary cleanse.
For
Excellent for dry or dehydrated skin
Gentle on skin
Can be used morning or night
Against
Might not be hardworking enough for oily skin
Best for acne-prone skin
CeraVe Blemish Control Cleanser
CeraVe Blemish Control Cleanser
Dr Alexis describes this as "a fantastic, non-drying option for those with blemish-prone skin". The formula uses the power of spot-fighting salicylic acid to fight congestion and remove excess oil. However, the soothing niacinamide and barrier-boosting ceramides balance it out meaning no dryness or sensitivity. I'd recommend this for secondary cleansing in the evening (acids can increase sun sensitivity during the day).
For
Targets spots
Unclogs pores
Non-drying
Against
Not needed for skin that doesn't suffer regular breakouts
Best for travel
CeraVe Hydrating Cleanser Bar
CeraVe Hydrating Cleanser Bar
This soap-free bar features 5% CeraVe Moisturising Cream, and therefore is anything but stripping (as bars are often rumoured to be). It's like a solid version of the brand's classic Hydrating formula, making it great for on-the-go travel. There's also less plastic packaging, making it a more eco-friendly choice.
For
Portable & lightweight
Hydrating for dry skin
Against
Can be a bit 'messier' to use
Best for face *and* body
CeraVe SA Smoothing Cleanser
CeraVe SA Smoothing Cleanser
While CeraVe's Blemish Control range is ideal for those already fighting spots, this formula is a brilliant 'maintenance' buy to ward off future breakouts. Alongside ceramides, hyaluronic acid and niacinamide, it contains salicylic acid to help keep skin inflammation-free. Dr Alexis recommends using this "every other day to start, while your skin builds up a tolerance to the ingredients".
For
Gently exfoliates
Targets blemishes
Can be used on body, too
Against
Best as a secondary cleanser rather than make-up remover
Best for eye make-up removal
CeraVe Micellar Cleansing Water
CeraVe Micellar Cleansing Water
For those who don't want a balm or oil for their primary cleanser, a micellar water such as this one is a mainstay for make-up removal—particularly on the eyes. It's ultra-gentle and works to maintain hydration and a healthy skin barrier, while also wiping away make-up with ease. Use a wash-off cleanser afterwards.
For
Great for removing make-up
Makes a stellar first cleansing step
Against
Needs a wash-off cleanser to follow
Slightly more expensive for a micellar water
Best for combination skin
CeraVe Foaming Cleanser
Not quite sure if you're oily or normal, skin-type wise? The brand's Foaming Cleanser is about to become your new BFF. It "easily cuts through excess oil and dirt and removes makeup but never leaves the skin feeling tight or dry", according to Dr Alexis. And, of course, it features the same ingredient triple-threat: ceramides, hyaluronic acid and niacinamide.
For
Removes excess oil without drying
Ideal for oily/combination skin
Best for dry skin
CeraVe Hydrating Cream-to-Foam Cleanser
CeraVe Hydrating Cream-to-Foam Cleanser
This option has to be the most soothing and comforting, making it lovely for dry skin types, or a winter switch-up where you fancy something a little richer. It's super gentle and calming, and really focuses on pumping moisture back into the skin. This works well as a primary or secondary cleanser.
For
Hydrating and comforting
Perfect for dry skin
Against
May be a little heavy for oily skin
Best for general make-up removal
CeraVe Hydrating Foaming Oil Cleanser
CeraVe Hydrating Foaming Oil Cleanser
For those who love an oil cleanser for make-up removal, look no further. It removes make-up like a dream, has great slip and feels luxurious on skin. The product lathers up to a rich foam and features squalane and triglycerides, which together with the ceramide inclusion, fortify the skin barrier for healthy, soft skin.
For
Great for make-up removal
Hydrating
Against
Needs a secondary wash-off cleanser, ideally
Celebrity news, beauty, fashion advice, and fascinating features, delivered straight to your inbox!
Rebecca is a freelance beauty journalist and contributor to Marie Claire. She has written for titles including Refinery29, The Independent, Grazia, Coveteur, Dazed, Stylist, and Glamour. She is also a brand consultant and has worked with the likes of The Inkey List on campaign messaging and branded copy. She's obsessed with skincare, nail art and fragrance, and outside of beauty, Rebecca likes to travel, watch true crime docs, pet sausage dogs and drink coffee. Rebecca is also passionate about American politics and mental health awareness.