I asked 11 beauty editors what the best skincare products of 2023 are so far—these are the ones that made the cut
They're best in class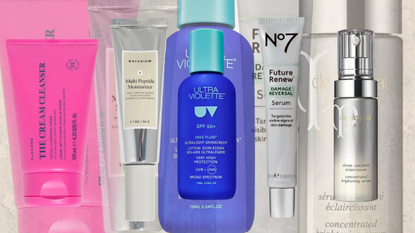 (Image credit: Future)
The stream of the best new beauty launches dropping daily, it can be impossible to know what is and isn't worth buying (though the monthly Marie Claire UK Beauty Desk Drop column is a great place to start). Despite being a beauty editor myself, armed with plenty of knowledge, if I'm considering a new purchase, the first place I consult is my trusted group of beauty journalist friends. Since we—quite literally—try products for a living, we know which new products nailed it at launch and which missed the mark. So, on my mission to determine the best skincare products of 2023, I knew I had to turn to them for their insights.
When it comes to skincare, well, that's even more difficult to know what to buy. With skin type, condition, goals and budgets to take into consideration—plus the fact that results with skincare aren't instant so it's difficult to gauge what works— I understand that it gets overwhelming.
But the launches so far this year have been really good, with some fantastic products landing on our desks, and we want to shout about them. To give you the lowdown on newness in skincare this year, I asked some fellow beauty editors what their favourite 2023 skin launch was—here's what they said...
Lucy Partington, freelance beauty journalist
Nateisha Scott, beauty editor
Grace Day, beauty editor and aesthetician
Ata-owaji Victor, freelance beauty journalist
Lucy Abbersteen, freelance beauty journalist
Vanese Maddix, freelance beauty journalist
Mica Ricketts, freelance beauty editor
Amerley Ollennu, freelance beauty and lifestyle editor
Zeynab Mohamed, freelance beauty journalist
Mollie Burdell, freelance beauty journalist
Tori Crowther, freelance health and beauty journalist
Shannon Lawlor, Acting Senior Beauty Editor, Marie Claire UK