As a beauty editor who knows skin inside out, I rely on these 12 products to keep my rosacea under control
Acne rosacea is no match for these products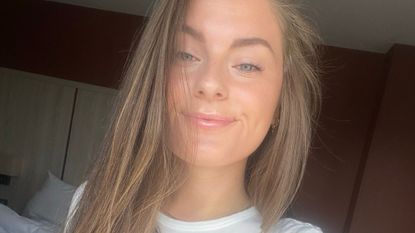 (Image credit: Tori Crowther)
Rosacea can be incredibly difficult to get a handle on. Even as a beauty editor with all of the products and expert advice at my fingertips, navigating the skin condition can be tricky. But just over 3 years after diagnosis, I've figured out what does and doesn't work, and this consistency has been key with keeping flares under control.
I was diagnosed with papulopustular rosacea, something I'd admittedly never heard of before even though I worked in the industry. I was at a pretty desperate place with my skin. I hated the way it looked and hated the way it felt even more—dry, itchy, sore and sensitive. Nothing I was doing seemed to be working and little did I know that's because I was doing the opposite of what my skin needed. Now, this was before the great skin barrier relief push. Products were still hyping up exfoliation to brighten skin and rid breakouts. Despite knowing better, I used acids to try and rid these pustules. Thankfully, we're moving away from that harsh exfoliation push now. But I know it can still be alienating when searching for skincare.
Although it's important to stress that everyone is different and what works for me might not work for you, I do, however, think it's a helpful starting point. When there's what feels like an infinite sea of beauty products out there, starting with a small list of rosacea-approved products might help you on your journey to finding your set of rosacea ride-or-die products.
The number one question I'm asked as someone who tries beauty products for a living is what the best make-up for rosacea and best skincare products for rosacea are—and luckily, there are tons.
Ahead, I'm going to run you through the 12 products I lean on when I'm struggling with redness, breakouts and irritated skin. But before that, let's dive into the what-you-need-to-know about it all.
What is papulopustular rosacea?
Rosacea can be more than just a little flushing. The condition is divided into four subtypes: erythematotelangiectatic rosacea (redness), papulopustular rosacea (breakouts), phymatous rosacea (thickening of the skin) and ocular rosacea (rosacea of the eyes).
I have papulopustular rosacea, which is what we're focusing on today, a condition often self-diagnosed as acne. Since the two conditions are completely different, a misdiagnosis can lead to a rapidly worsening of the skin—speaking from experience.
Papulopustular rosacea is typically associated with whiteheads, blemishes and bumps often in the central areas of the face. In addition to the breakouts, it also presents with the classic redness—in Black skin this often appears as being purple in colour or darker brown. You'll also find that the areas are sensitive and may feel fairly irritated. Unlike acne, you won't see blackheads with papulopustular rosacea. If you're unsure, an expert diagnosis is always a good idea; saving you time, effort and money in the long run.
Papulopustular rosacea triggers
Rosacea triggers are personal to you and it can take time to figure out which applies to you, but there are a few common ones that many people experience:
Sunlight
This is why you'll see derms banging on about wearing SPF even when it's cloudy. UV rays pass through even the most miserable weather conditions. The best way is finding a sunscreen you actually like using and easily slots into your daily routine.
Stress
One of the more difficult to manage, but the second most common rosacea trigger is stress. Evaluating where you have stress in your life and seeing if there are actionable steps to reducing that can have a big impact on your symptoms.
Exercise
Yep, exercise can cause a flare-up in symptoms so ways of dealing with this include trying out different types of exercise to see what suits you best. For example, you might find swimming gives you the movement you need without causing a flare-up where a HIIT exercise might.
Alcohol
A big one for me is alcohol, which causes almost immediate redness and then breakouts to follow, often the next day.
The weather
During the winter months, I always make sure to have some Cicaplast on hand to slather on before stepping out into the wind. It reduces the harsh conditions on my skin and provides an extra protective layer.
Tips for managing rosacea
So, you know what you have and have decoded your triggers, but what about managing the condition? As with many skin conditions, the approach to dealing with it is multi-faceted. Step one is getting a diagnosis, then it's about managing triggers and trying to reduce those. And finally, it's nailing that skincare routine and sticking to it consistently. Aside from that, there are a few top tips to keep your skin feeling its best.
Only use tepid water. "Very hot showers or baths can irritate the skin and trigger rosacea," says Dr. Catriona Maybury, consultant dermatologist at Dermatica. We know it's tricky, but your skin will thank you for it.
Don't buy into trending ingredients because TikTok tells you to. Perhaps one of the hardest is sticking to your consistent, often boring, routine when there's a buzzy new product popping off on your FYP. But if happy, healthy skin is your aim, keeping things pared back and simple is the trick.
Moisturise regularly. "Low humidity leads to sensitive, dry skin in winter," says Dr. Maybury. "Moisturise regularly with a gentle formula that won't cause inflammation, and try applying it when your skin is damp."
Avoid strong acids and exfoliation ingredients. This isn't to say you can't use them ever again, but avoiding chemical exfoliants at least until your flare is under control helps to repair the skin barrier. "AHAs and BHAs — including glycolic, lactic and salicylic acid — as well as alcohol, sodium lauryl sulphate and some retinoids can cause irritation and trigger a flare-up," explains Dr. Maybury.
Minimise friction on the skin. This one may seem simple but using skincare and particularly make-up that involves lots of blending and brushing can cause irritation. Try to use products that require little blending and only light dabbing to reduce redness.
Best products for rosacea, reviewed by a beauty editor
1. La Roche Posay Cicaplast Baume B5+
La Roche Posay Cicaplast Baume B5+
This is my total ride-or-die product, and I won't be without it. Nothing soothe my skin quite like it. As the name describes, the texture is a creamy balm, thicker than most moisturisers, which is a total dream if your skin is dry and irritated like mine often is. It's a multi-purpose balm and works to repair skin thanks to the brand's thermal spring water and 5% panthenol working to repair even the most unhappy skin.
I like to use this as a moisturiser at night, either on its own (applied over the top of the Cicaplast B5 Spray) or dabbed over the top of another moisturise as a spot-treatment for particularly dry or irritated patches.
This one (fairly) recently went through a reformulation, which made devotees to the balm a little hesitant to try it. But in my experience, and a few other people who I know have tried it get on perfectly fine with it. I'd go as far as saying my skin actually likes this reformulated version better.
For
Soothes the skin barrier like no other skincare product I have
Can be used all over the face and body
Against
It sells out constantly because it's so good
2. Dermalogica Stabilizing Repair Cream
Dermalogica Stabilizing Repair Cream
This is a new one for me, I've only been using it for about 2 weeks but it's already earned a spot in my bedside draw (aka where the best, most-used products live). It's the ideal moisturiser for me during the colder months as it's thick and creamy but not too rich that it causes breakouts or feels heavy on the skin.
It uses a ceramide complex, paired with cica and lactobacillus, to soothe irritated skin in just a week. Although claims like this are hard to quantify in real life, I did find that my skin felt far less irritated after using it for just a few nights. Unlike a lot of other barrier creams, it doesn't feel heavy on the skin and is genuinely really enjoyable to use.
Against
Expensive (although a little does go a long way)
3. Rhode Barrier Restore Cream
Rhode Barrier Restore Cream
Like a lot of beauty editors, I didn't expect to love Rhode as much as I do. I use the Barrier Restore Cream both in the morning and at night. I love it as a rich (but not too rich) cream in the mornings before SPF and make-up as it doesn't interfere with my make-up and keeps my skin feeling hydrated throughout the day.
Then at night, if my skin doesn't need a thick balm, I'll grab this to wake up feeling moisturised. It's a product I've come to rely on when I need something I know my skin isn't irritated by and feels instantly soothed.
For
Great for day and night
Works well with other skincare and make-up products
Against
Expensive for a small tube
4. Dr Jart+ Cicapair Tiger Grass Camo Drops
Dr Jart+ Cicapair Tiger Grass Camo Drops
The Cicapair Tiger Grass Camo Crops is the cousin to the original Tiger Grass Color Correcting Treatment and is fantastic for neutralising redness. Since my rosacea is very much under control right now, I find myself reaching for these drops more than the original paste formula. The drop are super easy to use, a little goes a long way and they work to just tone down that intense flushing without the need to pack on foundation. I either wear these on their own or underneath a little concealer to balance my complexion out. The SPF 35 in the formula isn't enough on its own, but it's a great bonus protection.
For
Great value
Fantastic at neutralising redness without make-up
Against
Use the original formula for significant redness
Doesn't work for all skin tones
5. Dermatica Rosacea Prescription Treatment
Dermatica Rosacea Prescription Treatment
If you're unable to visit a dermatologist physically, online dermatology platforms like Dermatica are a fantastic way to get the same service and ingredients.
For rosacea, the team of pharmacists and chemists blend together a bespoke prescription with ingredients like azelaic acid, ivermectin and metronidazole, which are typically only available from your GP or a dermatologist otherwise. This can be a fantastic, cost-effective way of getting your flare-ups under control and prevent them from returning. I've used Dermatica on and off for a few years and have always benefitted from the treatment as it's straightforward, affordable (when taking into consideration the cost of many other products on the market) and most important of all: it works.
For
Prescription treatment straight to your door
Bespoke made based on your concerns
Against
Lacks a little joy in use
6. Révive Moisturizing Renewal Oil
Révive Moisturizing Renewal Oil
This is definitely a luxury product and isn't one I would say is necessary in a rosacea routine. However, just because you have a skin condition, doesn't mean you don't want to splurge on products, too. This is what I often point people in the direction of if they want a little luxe product in their rosacea routine line-up.
The Révive Moisturizing Renewal Oil is the most delightful serum-oil hybrid that gives my skin the most glorious glow. I love to apply this either underneath my moisturiser or over the top of it to lock in all of that goodness. It's such a beautiful consistency that I haven't found elsewhere; not too oily but enough that it gives skin a real boost of hydration.
7. Colorescience Sunforgettable Total Protection Face Shield Flex SPF 50
Colorescience Sunforgettable Total Protection Face Shield Flex SPF 50
This is a newer product in my routine but one I will be using for months and months to come. This is a bronze-tinted SPF and I use it by mixing a few drops with the original Sunforgettable formula—it creates the most beautiful base. Most importantly, it's protecting my skin from UV rays, but also means I often don't need foundation because it gives enough coverage and added bronze to my pale complexion. It's a totally mineral formula meaning it's non-irritating and due to the tint doesn't leave a cast. I've used it every day since having it for the past few months.
For
Eliminates the need for foundation
Against
Might not work for all skin types
8. CeraVe Hydrating Cleanser
Cerave Hydrating Cleanser
I feel like this cleanser is so famous it barely needs explaining. The magic of it lies in its simplicity, it removes leftover make-up and grime from the skin without stripping it or leaving it feeling dry.
It's ceramide-packed and non-foaming so is sensitive, rosacea-approved.
Against
Won't remove waterproof make-up
9. Oskia Renaissance Mask
The Oskia Renaissance Mask one of the handful of chemical exfoliants my skin tolerates, making it an impressive, sensitive skin-friendly brightening mask.
Using natural fruit acids and lactic acid, this instantly gives my skin a pick-me-up, making my skin brighter, clearer and smoother. It also smells heavenly. I love taking a moment of calm while using this to enjoy every minute of it. Although it's more expensive than other acids out there, if you're a little worried about using acids, this really does do a great job. You also only need a small amount for your whole face so I find a tub lasts for months.
For
Excellent, gentle exfoliation
Against
Expensive but lasts a long time
10. E.l.f Pure Skin Cleanser
E.l.f Pure Skin Cleanser never steers me wrong and I'll always have it in my rotation. I use it as a second cleanse and a morning cleanse as its strength isn't in removing stubborn eye make-up but in making sure skin is super clean without stripping it.
It has a beautiful jelly texture that I genuinely look forward to using and the ingredients—oat milk, ceramides, hyaluronic acid—mean my skin is left feeling soft and not stripped.
For
Simple, non-stripping formula
Against
Won't remove eye make-up as well as other balm cleansers
11. Supergoop! Play Everyday Lotion SPF 50
Supergoop! Play Everyday Lotion SPF 50
Often with SPF, the best are the most simple. Supergoop! Play is such an elegant formula that works incredibly well with make-up, hydrates the skin without feeling heavy and doesn't irritate my sensitive complexion.
It's one that I often find myself going back to even though I have dozens of sunscreens on rotation due to my job. In my opinion, that makes it a great formula. After all, the best sunscreen is the one you enjoy using most.
For
Elegant formula
Non-irritating
Against
Can leave a dewy finish, which you'll either love or hate
12. The Body Shop Camomile Jelly One-Step Cleanser
The Body Shop Camomile Jelly One-Step Cleanser
I adore the original Camomile Cleansing Butter and I adore this too. I find this one removes make-up just as well as the original does, but I actually enjoy using this slightly more. The jelly texture feels really luxurious and leaves my skin feeling incredibly soft.
It can leave a residue and be a little bit more difficult to wash off, so I'd recommend using a muslin cloth to make sure all of the excess it removed, then follow it with a second cleanse.
For
Leaves skin feeling soft and hydrated
A great alternative to the original
Against
Leaves a residue if not completely removed
Celebrity news, beauty, fashion advice, and fascinating features, delivered straight to your inbox!
Tori is a freelance beauty journalist and contributor for Marie Claire. She has written for various titles, including Allure, Glamour, Elle, Refinery29, Brides, and more. Currently training to be a nail tech, Tori is a total nail enthusiast and always has time to talk all things nail art. When she's not writing about beauty and testing products, Tori can be found walking her rescue dog Pip, drinking great coffee, and eating as many croissants as humanly possible.