If your eyes are persistently sore, you could be dealing with this lesser-known skin condition
An oculoplastic surgeon explains when your sore eyes could be something more serious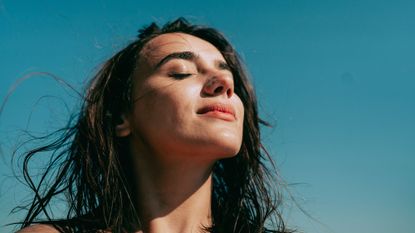 (Image credit: Getty / Royalty-free)
You've probably heard of rosacea, a skin condition that causes persistent redness, burning, papules and thickened skin to name a few, but have you heard of rosacea of the eyes? Known medically as ocular rosacea, it's a lesser-known about type of rosacea and doesn't yet have a cure. However, symptoms can be managed and are best done so when diagnosed and treated early.
We spoke to consultant ophthalmic and oculoplastic surgeon Dr Elizabeth Hawkes to find out some things you need to know about the condition, including tips, tricks and when you should seek professional help.
What is ocular rosacea?
Ocular rosacea is essentially rosacea of the eyes. It's one of the four types of rosacea, the others including erythematotelangiectatic rosacea (the most common, which is the persistent redness), papulopustular rosacea (characterised by pimples on the face, often misdiagnosed as acne) and phymatous rosacea (thickening of the skin, often the nose).
Interestingly, ocular rosacea can present on its own, meaning you don't have any other forms of the condition. "Some people will have rosacea that affects their skin, as well as ocular rosacea and some will have it affecting just their skin and others just their eyes." However, it's estimated that around 50% of those with rosacea have eye sensitivity, too.
We still don't know exactly what rosacea is caused by, some suggestions include being hereditary, environmental factors, bacteria and blocked glands in the eyelids. But as we said, there isn't a clear answer and research is still being carried out.
What are the symptoms of ocular rosacea?
There are a few signs and symptoms of ocular rosacea and the tricky thing is that they can be difficult to differentiate from dry eyes and other conditions. There are no tests to diagnose the condition so your healthcare professional will listen to your symptoms and history before taking a look at your eyes before coming to a conclusion. The most common symptoms, Dr Hawkes explains are:
Redness (on darker skin tones keep a lookout for any discolouration)
Burning
Watering eyes
Redness and swelling on eyelids
Feeling like there's something stuck in eyes
Styes
Inflammation of the eyelids (blepharitis)
Who does it impact the most?
Although ocular rosacea can impact anyone, Dr Hawkes explains that women are more likely to experience the condition. Those aged between 30 and 50 are also more likely to develop ocular rosacea.
What are the risks of ocular rosacea?
Unfortunately, there are risks of this type of rosacea so management is key. "Ocular rosacea can sometimes cause the cornea to become inflamed and damaged, which is called keratitis," explains Dr Hawkes. "The damage can make the cornea [the transparent part that covers the eye] susceptible to ulceration and infection, which could possibly threaten sight, so in that sense it is a more severe type of rosacea," she adds. Even if you have only mild rosacea of the skin, you can develop serious eye problems from ocular rosacea, Dr Hawkes warns, so it's definitely something to take seriously and see a professional for if you're concerned.
"People with mild rosacea are often not aware it can develop in the eyes and may mistake symptoms such as burning or dry eyes for allergies," says Dr Hawkes. "This can be dangerous as it's important to catch eye symptoms early and treat them."
If left undetected, ocular rosacea can lead to more medical conditions, including blepharitis, chronic dry eyes and keratitis. "Keratitis, which is due to ocular rosacea, tends to begin at one edge or the bottom of the eye and then spread to affect the lower half to two-thirds of the cornea. It is very serious," explains Dr Hawkes.
How to treat ocular rosacea
Sadly, there is no cure for ocular rosacea. However, the good news is that there are things you can do to ease symptoms. If your condition is moderate to severe, you'll be referred to an ophthalmologist who will suggest things like steroid eye drops or ointments, antibiotics and artificial tears to lubricate dry eyes.
Management at home can help symptoms immensely. "I would advise keeping the routine, even when your condition clears up, as it will help prevent flare ups," Dr Hawkes adds. This includes things like:
Keeping eyelids clean by gently washing the twice a day with warm water
Avoid wearing makeup when your eyes are inflamed
Avoid wearing contact lenses when eyes are inflamed
Apply warm compress if needed for relief
Using specific eye washes as recommended by your doctor
You can also try dry eye sprays like Peep Club's Instant Relief Eye Spray
When to seek professional help
It's important to know when professional help is needed. It can be tricky to know when we are suffering from a touch of dry eyes or seasonal allergies or if it's something more serious. Rosacea—and any other skin condition for that matter—should never be self-diagnosed. Visit your GP or an ophthalmologist who can help make that rosacea diagnosis for you and put you on a treatment plan.
If you notice your eyes getting sore, more red or discoloured, irritated or sensitive than normal, visit your GP who may refer you for further help.
Celebrity news, beauty, fashion advice, and fascinating features, delivered straight to your inbox!
Tori is a freelance beauty journalist and contributor for Marie Claire. She has written for various titles, including Allure, Glamour, Elle, Refinery29, Brides, and more. Currently training to be a nail tech, Tori is a total nail enthusiast and always has time to talk all things nail art. When she's not writing about beauty and testing products, Tori can be found walking her rescue dog Pip, drinking great coffee, and eating as many croissants as humanly possible.