4 editors share their honest thoughts on Dr Jart's best selling products
The ones that won us over (and the ones that didn't)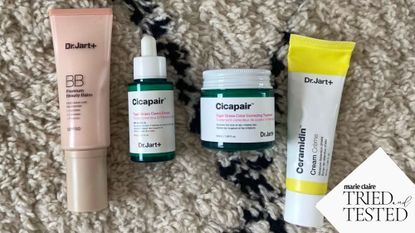 (Image credit: Tori Crowther/Future)
There are certain brands that have global viral appeal, popping up on our For You Page over and over. But there are few brands that have both viral appeal and are good enough to have a permanent place in our beauty routines— staying relevant way beyond the viral posts dying down. From cleansers and serums to moisturisers and eye creams, the one brand that has placed itself firmly in that category is Dr Jart+.
The South Korean brand founded by an architect almost 20 years ago was built on a promise of high performance and innovative skincare. This philosophy has led the brand to have many 'cult' favourites and bestsellers that have been staples in my beauty routine for years. But don't just take my word for it. I asked 2 of my fellow beauty journalists friends and Marie Claire UK Acting Senior Beauty Editor, Shannon Lawlor, to put the four best-selling products – Ceramidin Cream, Cicapair Tiger Grass Colour Correcting Treatment, Cicapair Tiger Grass Camo Drops and the new BB Balm – to the test. Now, not all of the products were designed for each of our skin types or tones and that isn't always a problem. What does matter, though, is that everyone feels catered to in some way and has products in the line that they feel address their skin concerns.
Ahead, read our honest reviews on the Dr Jart+ bestsellers and see how they fared when reviewed by beauty journalists who truly know their way around a good product.
How we tested each product
Each editor was given a selection of the Dr Jart+ products and we all individually considered: formula, ease of use, price point, adaptability and, most importantly, how well it addresses our concerns. This review is a collection of each editor's individual thoughts.
1. Dr Jart+ Ceramidin Cream
Dr Jart+ Ceramidin Cream
Reasons to buy
+
Works as a nighttime moisturiser and makeup primer
Reasons to avoid
-
Contains alcohol
-
Probably too rich for those with acne-prone skin
All of us editors were impressed with the Ceramidin Cream. For some of us, we'd already tried-and-tested (and loved) this formula, but it was totally new for others. Either way, we all had one thing in common: loving it.
"The stand out product—as someone with combination skin that errs on the dryer side during the change of season—was the Ceramidin Cream," says freelance beauty and lifestyle journalist, Ata-Owaji Victor. "I've tried a fair few deeply hydrating creams over the years but this rich nourishing and instant skin booster is a real contender for the top spot." The formula is designed to support the skin barrier (basically, irritated and unhappy skin) thanks to the inclusion of ceramides, shea butter and botanical extracts.
The balmy texture works well both at nighttime and under make-up as a primer in the day. It's particularly nice in the winter when most of us want something a little thicker, but combination skin types might find it a little too heavy for spring and summer.
The one downside with this formula was the alcohol content. "I'm pretty careful with what I slather onto my face though, and the formula boasts a large percentage of alcohol, which could impair the skin barrier," says freelance beauty editor Humeara Mohamed. With famously angry skin (a huge break-out is never too far off on the horizon), I therefore wouldn't use this very often."
As somebody who doesn't wear facial moisturiser very often, Shannon admits it is probably too rich for her oily skin (although appreciates it's a great formula for those who have dry skin). "I don't wear moisturiser during the day. Instead I opt for a cream SPF—my skin is too oily to need both. At night, I usually opt for something active, so I've never been able to find a place for this product in my routine. Having said that, I always keep a tube on hand for any eczema flare-ups on face or body. I think using this balmy cream every day on my face would likely flare up my acne."
2. Dr Jart+ Cicapair Tiger Grass Colour Correcting Treatment
Dr Jart+ Cicapair Tiger Grass Colour Correcting Treatment
Reasons to buy
+
Great for concealing redness
Reasons to avoid
-
Doesn't work for all skin tones
Next up is the Cicapair Tiger Grass Colour Correcting Treatment. Now, we expected this to be a little hit and miss among the editors. That's because there's really only one skin type and tone that this treatment was designed for: redness.
For me personally, it works fantastically well because I have rosacea-prone skin. I often like to reach for lightweight skin base formulas but find these don't do a good enough job covering redness. The solution to this is the thick, green tint that when blended into the skin transforms into a beige tint that instantly conceals my redness.
"The paste and drops were a tad ashy when applied to my skin," says Ata. But she's not forgoing using the treatment altogether. "However, as the product's ultimate selling point is its ability to soothe irritation for sensitive skin, I'll be interested to see how it fairs as an overnight option in addition to my Sunday wind down," she adds.
Humeara didn't find this worked for her skin tone and the white cast was too much for her to get any benefits out of the product. "I tried applying it straight onto my face, and I tried rubbing it into my hands first and then gently pressing in. Both times, I gave it ten whole minutes to sink in before giving up and wiping it off."
It's also worth noting that this product won't work for you if you have a yellow undertone to your skin, like Shannon. "Using this product just makes me look a bit ghostly and ill. It's not made for me. Having said that, I can see where I have red breakouts that it takes the redness down a treat—so I might consider using it as a spot treatment in the future. I know so many people who struggle with flushing and rosacea who absolutely adore it, it's just not created for me," she says.
In addition to working for just one skin type, it also requires thoughtful application. You can't whack a bunch of this product on and be good to go. A little goes a very long way and needs pressing into the skin to conceal the redness. Remember: it's always easier to add more than take away too much. On a practical level, the tub can get quite messy so I always opt for the lightweight Camo Drops when travelling or short for time.
All in all though, when it comes to colour correcting, the Tiger Grass treatment absolutely delivers on its promise but isn't a product that works for everyone.
3. Dr Jart+ Premium BB Beauty B SPF 50
Dr Jart+ Premium BB Beauty B SPF 50
Reasons to buy
+
A great no-make-up make-up base
Reasons to avoid
-
Doesn't match all skin tones despite adaptable shades
This is the newest product from the brand—the BB Balm. For years, Dr Jart+ was most well known for its iconic BB Balm, and now it's had a serious upgrade. "As with most big beauty launches, since the launch of Dr Jart's new BB cream you couldn't scroll online for more than a few moments before seeing someone raving about the hybrid offering and its promise to even out skin tone and boost moisture," says Ata.
"When it comes to base make-up, I don't think I'm too fussy. I want to look healthy—never cakey—and I want to glow without feeling sticky, but the formula has to give a good level of coverage. That's not too much to ask, is it? I was beginning to think it might be, until the new Beauty Balm landed on my desk," says Humeara. "Initially I was sceptical – there are only four 'adaptable' shades – but Light Medium works a treat for me personally. I've tried it with and without a primer, and I actually prefer it without—it hugs my face like a second skin, giving a deliciously dewy finish while hiding my acne scars."
And I agree, it feels incredibly lightweight and comfortable on the skin but gives a decent level of coverage and the added SPF is a massive bonus. "My skin is pretty sensitive, and it didn't break me out or cause flakiness, and I've genuinely used it every day since I first got it," Humeara notes.
Shannon is equally as impressed: "I'm by no means a foundation lover or regular wearer, but this product is absolute perfection for me. It gives skin a delicious glow that genuinely looks and feels natural on the skin. It is, in my opinion, the best of what Dr Jart offers."
Unfortunately it didn't work for all of the editors. "Formula wise, the BB cream was sumptuous and hydrating, however as I make it a point to avoid any base products that require liberal strokes of bronzers and tinted powder in order to blend with my skin tone, this is a product I can't see becoming part of my rotation," says Ata.
Here's hoping Dr Jart+ expands the shade offering on the BB Balm because the formula really is a winner.
4. Dr Jart+ Cicapair Tiger Grass Serum
Dr Jart+ Cicapair Tiger Grass Serum
Reasons to buy
+
Easier to use than the original Cicapair treatment
Reasons to avoid
-
Doesn't work for all skin types
If you love the redness neutralising benefits of the original Dr Jart+ Cicapair Tiger Grass Colour Correcting Treatment, but aren't a huge fan of the faff required to apply, then you'll love the newest Tiger Grass formula. Just like its older sister, the formula is designed to tackle redness. It has a much thinner, watery consistency housed in a dropper applicator bottle vs a glass jar.
Being a huge fan of the original formula but sometimes not being bothered to apply it properly, I knew I'd love this. As expected, it's very easy to use. It's an ultra lightweight formula that immediately feels comfortable on the skin. After applying moisturiser and SPF, I dab on a few dots (a little goes a long way!) on my cheeks where I have the most redness. I blend in lightly using my fingers and as if like magic, it neutralises my bright beetroot complexion. I find it far easier to use than the original formula, and often reach for this when my redness isn't as severe. I like to wear this one on its own on light makeup days. The formula also has added SPF 30; although I don't rely on this alone as my sun protection for the day but every little helps.
Just like the original Tiger Grass Treatment, this product isn't going to work for everyone. Shannon notes, "I'll admit, this product works much better for me than the original cream, but I still can't see myself using it every day. In the winter, when I'm a bit paler, I might find myself reaching for it to help soothe by pale, dry, winter skin, but right now I still find the green tint is washing me out." Since its sole purpose is to tone down redness in the skin, if you don't have redness, it'll just look green and if you have a darker skin tone, it'll likely leave an ashy finish.
Celebrity news, beauty, fashion advice, and fascinating features, delivered straight to your inbox!
Tori is a freelance beauty journalist and contributor for Marie Claire. She has written for various titles, including Allure, Glamour, Elle, Refinery29, Brides, and more. Currently training to be a nail tech, Tori is a total nail enthusiast and always has time to talk all things nail art. When she's not writing about beauty and testing products, Tori can be found walking her rescue dog Pip, drinking great coffee, and eating as many croissants as humanly possible.