As an editor who tests concealers for a living, the coverage of this Too Faced concealer is unmatched
TikTok is onto something with this one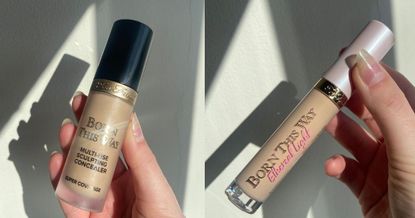 (Image credit: Tori Crowther)
I consider myself to be a very low-maintenance beauty editor, especially when it comes to my make-up routine. But there's one thing that always makes it into my top three products and that's concealer. Scrolling through TikTok recently indicated to me that the Too Faced concealer is arguably the best concealer I had never tried.
Now, I don't have particularly dark circles but I do have a constant blue tinge to my inner corners and under eye. Because of this, most concealers just don't cut it in minimising this, but Too Faced Born This Way Super Full Coverage Concealer does just the trick thanks to the phenomenal coverage. It seems that TikTok, and the concealers 42 million views, were not wrong.
Too Faced promises 24-hour wear with its oil-free, full coverage formula that can be used as both a concealer and a foundation. And it's not often that a product comes through on all of its claims, but for this, it's pretty darn close.
Although the formula is oil-free it doesn't dry my skin out. For me, this is a huge bonus since I have incredibly dry skin. I just need to be sure I've primed well enough, I like Hourglass's Veil Mineral Primer or Too Faced Hangover Replenishing Face Primer. I can't vouch for its 24-hour wear claim—you won't find this beauty editor sleeping in her make-up—but it lasts through very long days in London at work events and late nights during big occasions without any touch-ups needed.
The coverage is where the real magic is. It conceals fantastically with just a tiny amount of product even though the formula isn't super thick and very blendable. It works to tone down dark circles without looking cakey under eyes, it covers up spots without making them appear dry, and it works well to tone down redness without making the skin look like make-up is packed on. All of that is no easy feat.
The formula nails the no make-up, make-up look without lacking on the coverage that so many types of products in this category do, which is ideal if you have acne, rosacea, or hyperpigmentation. It's also a buildable formula, meaning you can tone it up or down depending on the area you're covering and the finish you're hoping for.
The packaging makes the product super easy to use with a big angled doefoot applicator that can be dabbed right into place and quickly blended out using your finger or a brush.
The price is a little more expensive than your average concealer, so whether it's worth it depends on your budget and preferences. But I do think it's justified for two reasons: the amount you need is minimal (and I mean minimal) and it's multi-use so if you like that full-coverage finish, you won't need an additional foundation.
The brand also has a lighter version, which is ideal if you want all of the above with added brightening elements. As for the Ethereal Light Illuminating Concealer, as the name suggests, it's essentially lighter and brightening. I also love this concealer, especially on days where I don't want as much coverage, still enough to conceal the blue tones.
Consider these products worthy of the TikTok hype!
Celebrity news, beauty, fashion advice, and fascinating features, delivered straight to your inbox!
Tori is a freelance beauty journalist and contributor for Marie Claire. She has written for various titles, including Allure, Glamour, Elle, Refinery29, Brides, and more. Currently training to be a nail tech, Tori is a total nail enthusiast and always has time to talk all things nail art. When she's not writing about beauty and testing products, Tori can be found walking her rescue dog Pip, drinking great coffee, and eating as many croissants as humanly possible.