MAC's new Mariah Carey collection is a total Fantasy
All I want for Christmas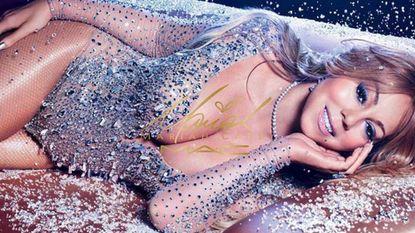 All I want for Christmas
At the end of 2015 MAC, dropped a bombshell by announcing that they were teaming up the Heartbreaker singer to launch a collection in 2016. And to wet our appetite, they launched her All I Want lipstick earlier this year. Now, finally, Mariah Carey's full collection is available - and it's the stuff of dreams.
Consisting of five lipsticks, five lip glosses, two blush shades, two lip pencils, two eyeshadow quads, two types of false lashes, a liquid liner, a skin-finishing compact and a shimmery loose powder, this collection will literally bringing on Emotions. Think you'd squeal if you ever ran into the Butterfly fanatic herself? Wait until you unleash her Extra Dimension Skinfinish on your face and debut your new Mariah Carey Loose Powder in the ladies' room. It's enough to bring out the inner diva in the most laid-back of us. And the online-exclusive Lipglass in Butterfly Bling adds just the right amount of flash to any look.
Obsessed with make-up? You have to check out Powder – they can match you with the perfect products for you! Find your perfect bronzer here...
'Going from having one product to 23 was so exciting,' the singer said in a statement. 'I put a lot of what I like because I know these colours really work,' Mariah told Allure. 'I chose the shades and products that I would wear not necessarily just for [the] stage. You can definitely wear it all in your regular life.' And although they're not your typical Christmas shades (expect pinks, golds and coral), the amount of glitter injected into the products definitely gives that festive feeling. Plus, everything is luxuriously packaged in silver glitter with champagne gold accents and Mariah's signature, making it hands down the best Christmas gift for any Mimi fan.
Dream Lover come rescue me because We Belong Together. Ok, enough already. Where's my credit card...
Save
Celebrity news, beauty, fashion advice, and fascinating features, delivered straight to your inbox!