We tested the L'Oréal Telescopic mascara that started lash gate on TikTok—here's the MC verdict
Does the mascara *really* deliver that false-lash look?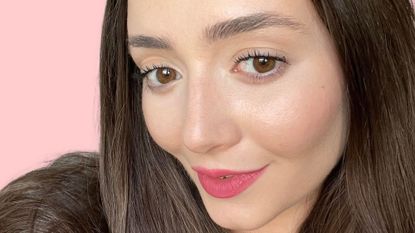 (Image credit: Future)
If you are an avid TikTok fan like myself, you'll probably know all about #lashgate. While previous TikTok trends like the red nail theory and the Hailey Bieber contour method have gone viral for all of the right reasons, the lash gate hashtag did not—and Marie Claire's beauty editor and I have been hooked on the drama.
Let me give you the low-down.
When L'Oréal released its Telescopic Lift mascara, TikTok went wild. In fact, #lorealtelescopiclift is currently at 17.1 million views. While the TikTok videos singing the mascara's praises rolled in, on other parts of the app, the mascara was causing quite a stir. So much so, it has been branded lash gate. #lashgate has 26.9 million views on TikTok.
If you're wondering what I'm talking about, let me explain. Lash gate all started with make-up artist @mikaylanogueira posting a video trying the new mascara. Sounds simple right? The video shows her trying the mascara on, astonished by the length and volume. "THESE ARE THE LASHES OF MY DREAMS!! @lorealparisusa never lets me down!" she captioned the video.
But as more people saw the video, the more the comments rolled in from users convinced she was wearing false lashes. Ardell Demi Wispies to be precise.
The TikTok star still holds the top spot for most liked video and has 55.3 million views. With her very own hashtag #mikaylashgate, which has 1.8 million views and rising.
Since her post, everyone has had something to say about the mascara—did she really add fake eyelashes? While the make-up artist hasn't responded to comments herself about the fake lash claims, I knew I needed to give it a go myself to get some answers.
And because I know my solitary opinion isn't enough, I asked team Marie Claire to test it out so we could give you a real verdict—and, most importantly, to figure out whether this mascara delivers the same amount of drama as lash gate.
Because, let's be honest, this volume actually looks really impressive.
L'Oréal Paris Telescopic Lift Mascara: Our verdict
Does the new L'Oréal Telescopic Lift mascara deserve a spot in a round up of the best mascaras? Here's our verdict...
Dionne Brighton, Trainee Writer
Before
After
For me, I am obsessed with the lift, but I don't love that it can flake throughout the day. However the lift is really something and I'm loving the double hook brush. The flat surface is great for bulking on the product and bringing the volume and I love how fine the rest of the brush is for separating the lashes.
Zoe Anastasiou, Acting Fashion Editor
"After seeing all the TikTok drama surrounding the L'Oréal Telescopic Mascara, I was dying to try it - just like everyone else! While the makeup did give me visibly added length and fuller lashes, I have to say, I didn't see much of a difference between the Telescopic mascara and other mascaras I've used historically. Plus, after using two coats of the product (as Mikayla had done in the video) I noticed that the mascara flaked throughout the day."
Sofia Piza, Producer
"The wand had a very precise and delicate application, which I haven't really felt from any other mascara before. It gave beautiful volume with two coats- minus the clumps. However, I did notice fallout throughout the day and felt like I had to keep dabbing it out."
Alice Carter, Social Media Editor
"I never normally use this type of mascara brush as I have to prefer the wider spaced wand but this worked well for me - if your using it in layers like I do as the wand seems to break apart the mascara clumps and makes them look fuller and longer so I will definitely be reaching for this in my make-up bag in the mornings."
Jadie Troy-Pryde, News Editor
"There's no doubt that the re-invention of the iconic Telescopic mascara has been making waves on social media in recent weeks, so I was very keen to see if the new and improved version of the classic - which I was a huge fan of way back when it first launched - was worth the hype. While it undeniably made my lashes look instantly longer, I felt they also looked a little bit spindly. Personally, I prefer a lot more volume, so I'll probably stick to my Huda Beauty Legit Lashes. But this would be a good option for anyone who wants to softly and subtly accentuate their lashes."
Grace Lindsay, Beauty Writer
"My favourite thing about this mascara was the wand. It made the product so easy to apply, and I couldn't believe how long and voluminous my lashes looked after one coat. The only downside is that after wearing it out to dinner, I did have a little bit of smudging under my eyes."
Shop L'Oréal Paris Telescopic Lift Mascara
Celebrity news, beauty, fashion advice, and fascinating features, delivered straight to your inbox!
Dionne Brighton is a writer at Marie Claire UK, specialising in all things shopping, beauty and fashion. Born and raised in North London, she studied Literature at the University of East Anglia before taking the leap into journalism. These days, you can find her testing out the latest TikTok beauty trends or finding out what the next full Moon means.