I'm a beauty journalist and make-up artist—these L'Oréal foundations are some of the best I've ever used
Affordable, well formulated, and loads of choice: what's not to love?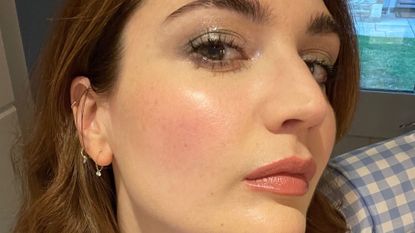 (Image credit: Madeleine Spencer)
Rewind to summer 2018. I was on the hunt for the best foundation under the sun, and I stumbled across L'Oréal's Infallible Pro Glow Longer Foundation online. Touted as one of the absolute best foundation for combination skin, providing glow while containing excess sheen, my curiosity was piqued (foundation for dry skin requires an entirely different criteria).
It seemed to only be available online, so I took the leap and bought two—one in a shade slightly lighter than my skin, one slightly darker (I often do this when concerned I won't get the precise colour match, then mix to make the precise hue I need).
It more than delivered, and I barely reached for any other foundation throughout the year, banging on about it to all and sundry, stocking up on the range for my professional make-up kit too.
Since then, Infallible Pro Glow Longer Foundation has become virtually impossible to get your hands on (I'm heartbroken). However, thrilled by the brand's feat, I have since found myself gravitating towards L'Oréal foundations at every opportunity—including the time my foundation was taken away from me at airport security, and the time I ended up stranded in the countryside after my train was cancelled so did a sweep of Boots for make-up.
I therefore entered into testing the brand's entire range with gusto, excited to see what I might discover. Below are the ones I really want you to know about.
Best for lightweight coverage
L'Oréal Paris Skin Paradise Tinted Moisturiser SPF20
L'Oréal Paris Skin Paradise Tinted Moisturiser SPF20
If your skin is having a good day, or if you only want a light veil of hydration and a little unifying whisper of colour, get this. It makes skin look juicy and healthy, and adds a little sheen.
I liked it on days when I was tired but my skin was relatively clear, and used it to inject a bit of life in the morning. I still needed a little concealer around my nose and on any retreating spots, that said.
For
Contains aloe vera to soothe and hydrate
70% water-based so offers a lightweight veil of coverage
Against
Wouldn't cover significant redness
Isn't buildable
Best for full coverage
L'Oréal Paris Infallible 24hr Matte Cover Foundation
L'Oréal Paris Infallible 24hr Matte Cover Foundation
I tested this on a few shoots, when I applied my make-up at the crack of dawn and didn't remove it until late at night and found it really, really stayed put—even across the centre of my forehead, where shine usually breaks through after a couple of hours.
The thing I liked most about the finish is that while it was matte, it didn't look flat and chalky—more skin, blotted.
For
Offers full coverage with a matte finish
Doesn't look caked or move around the face
Sweating didn't make it disappear
Against
It's not for you if you want hardly any coverage
The matte finish would exacerbate dryness
Best for everyday wear
L'Oréal Paris True Match Liquid Foundation
L'Oréal Paris True Match Liquid Foundation
I decided that this would be the one I'd reach for on an everyday basis because it provided medium coverage (so I only needed a little concealer on red bits), it offered some skincare benefits (including hyaluronic acid, glycerin, and aloe vera), and finished sheeny but not greasy (so I powdered down my t-zone and left my cheeks juicy). You could of course apply it with a brush, but I really liked the way it looked when I massaged it into my skin with my fingers after applying SPF.
For
Offers medium, slightly buildable coverage
Looks like healthy skin when on
Contains skincare ingredients
Against
The packaging is a bit bulky
Oilier skin might need powder to take down the shine
Best on-the-go solution
L'Oréal Paris Infallible 24 Hour Fresh Wear Foundation Powder
L'Oréal Paris Infallible 24 Hour Fresh Wear Foundation Powder
This powder caused a stir when it was released, and it's not hard to see why. Used wet, it becomes a heavy duty foundation. Applied dry, it's medium with a shine-containing, but not flat, finish—it might sound contradictory, but it's both fresh and healthy, and sheen-free simultaneously.
I found the lightweight compact with the sponge contained in a cell under the powder a really good on-the-go top up solution—and it took up hardly any space in my make-up bag.
For
Lightweight packaging
Contains a sponge
Can be used wet for duller coverage or dry for less
Looks fresh while containing shine
Against
Wouldn't be ideal on very dry skin
If knocked about in your bag, the cake powder can break
Celebrity news, beauty, fashion advice, and fascinating features, delivered straight to your inbox!
Madeleine Spencer is a journalist and broadcaster who has contributed to titles including Grazia, Glamour, InStyle, The Independent, The Evening Standard, and Stylist, as well as offering commentary for the BBC, Sky News, and ITV.
She is keen on exploring the significance beauty rituals, products, and memories have on people from different walks of life, and enters into conversation on the topic with guests on her podcast, Beauty Full Lives.