I just tested all of Lancôme's foundations—these are the 3 I now need in my life permanently
And they're all second to none for lit-from-within, healthy-looking skin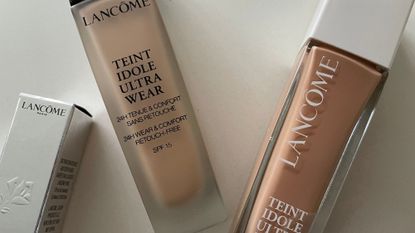 (Image credit: Madeleine Spencer)
You know the drill by now: the best foundation you can buy won't form a mask on your skin, but rather cover most of what you need covering, and add a unifying veil so that your skin does that 'you, but better' thing. And I've always had a hunch Lancôme foundation offers those things.
Now, I am not foundation's regular customer; as a beauty editor, make-up artist, and sufferer of acne, my needs change regularly. Sometimes when my skin is behaving well, I am all about the best tinted moisturisers. Other times, I am hitting up the best foundation for oily skin for my t-zone and the best foundation for dry skin on my cheeks.
One thing that remains constant: I want my skin to look smooth, healthy, and blemish-free.
Enter Lancôme, which has been on my radar for years as a brand which delivers solidly researched and tested make-up. I've used loads of their products on my face and on clients' for years, and found them very reliable.
I therefore embarked on this trial of all their foundations with clear criteria: I wanted to find the ultimate options for different coverage, needs, and finishes—but while keeping the rule that they need to create the healthy, uniform skin I know Lancôme does so well.
After testing them all meticulously, these are the three Lancôme foundations I fell in love with.
1. Lancôme Teint Idole Ultra Wear SPF15 Foundation
Best all-rounder
Lancôme Teint Idole Ultra Wear SPF15 Foundation
The thing I loved most about this foundation is that it did so many things at once: it added glow, but also finished velvety; concealed redness, but didn't look like a mask when on. And my favourite of all: I usually wear powder to contain my greasy t-zone, but didn't need any with this.
For
Lasts for ages without creasing
Offers a velvety finish
It isn't greasy but doesn't remove all glow
Makes skin look beautifully even
Against
Might not be moisturising enough on drier skin
The glass bottle doesn't make it the easiest foundation to travel with
2. Lancôme Teint Idôle Ultra Wear Care and Glow
Best for backlit glow
Lancôme Teint Idôle Ultra Wear Care and Glow
I started testing this after I'd had a cold, which was perfect timing - my usually-oily skin was quite dry, and this added the dose of glow I so desperately needed.
The clever thing about this one if your skin gets greasy over time: while it's designed to create luminous skin, it also contains silica to absorb excess oil. I wore it without any powder on in the above picture and felt really happy with the result.
For
Adds luminosity
Doesn't get greasy over the course of the day
Against
The glass packaging isn't overly travel-friendly
It you have an oily t-zone, it might not be the one - or you'll have to powder
3. Lancôme Teint Idole Ultra Wear All Over Concealer
Best for customisable coverage
Lancôme Teint Idole Ultra Wear All Over Concealer
If you're someone who has bits you'd prefer to cover, and bits you like to leave with no make-up on at all, this one is going to be your new best friend.
I used it on good skin days to cover the areas around my nose and chin where I am always a bit red or have some scarring.
A word to those of you who want to use it on acne or more actively cross skin: it will cover well, but don't expect it to work miracles—you're looking at a medium-to-full product, here.
For
The doe-foot applicator means you can dot it wherever you want a little coverage
It blends really easily into the portions of skin with no make-up on
It looks like juicy, bouncy skin on
Against
While it can conceal, I wouldn't say it was up to the job of big spots
The formula is buildable
It's easy to sling in your travel bag
Celebrity news, beauty, fashion advice, and fascinating features, delivered straight to your inbox!
Madeleine Spencer is a journalist and broadcaster who has contributed to titles including Grazia, Glamour, InStyle, The Independent, The Evening Standard, and Stylist, as well as offering commentary for the BBC, Sky News, and ITV.
She is keen on exploring the significance beauty rituals, products, and memories have on people from different walks of life, and enters into conversation on the topic with guests on her podcast, Beauty Full Lives.