This silisponge hack is utterly genius
And you've probably already got everything you need for it at home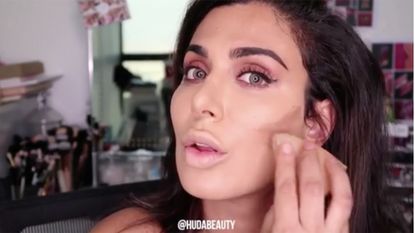 And you've probably already got everything you need for it at home
You may have recently seen a gaggle of bloggers cutting up chicken fillets from their bra and using them to dab foundation on their face. And while it looks like some sort of dare gone wrong, it's actually a genius knew make-up hack. Last week, the SiliSponge, a silicone make-up applicator from Hong Kong-based company Molly Cosmetics completely sold out after it appeared on Reddit - leaving numerous people distraught that they didn't get to try the latest beauty blender rival. That is, until beauty blogger extraordinaire, Hudda Kattan came up with the genius idea of using a bra insert.
The idea is that we waste a lot of product when we use a make-up brush, beauty blender or our hands. So, if we use a silicone sponge that's encased in a type of flexible plastic, we'll waste less product because it doesn't absorb liquids. Makes sense.
After cutting and folding her fillet into a more user-friendly shape, Huda used it to press, roll and smooth her foundation onto her skin. She even used it to contour. And the end result was utterly dreamy.
Take this quick quiz on Powder to find your holy grail foundation - genius!
Giving her verdict on this latest beauty hack, she captioned her Instagram video: 'Tried out the latest hack to the silicone sponge, a BOOB BLENDER, to apply my makeup and loved it! The application was really smooth and the best part was it did not soak up any product making it a great alternative to a blender or a brush.'
If anyone needs us, we'll be in Marks and Spencer stocking up on silicone enhancers.
Celebrity news, beauty, fashion advice, and fascinating features, delivered straight to your inbox!