These are the most effective at-home eyebrow tinting kits—and they're all less than £10
Can't get to the salon? These will do the job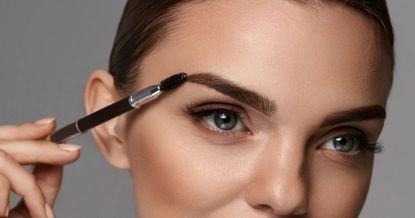 (Image credit: Getty Images)
Filling in your brows with the best eyebrow products instantly frames the face and changes your entire look. And no matter how you shape your eyebrows, one thing that immediately makes them look more groomed is tinting. But we're busy people and budgets don't always allow for regular salon visits, which is where eyebrow tinting kits come in very handy.
At home dye kits have come a long way in the last few years and the formulas work impressively well. But it can be daunting if you've never done it before. That's where myself, a seasoned beauty editor, and a brow expert come in. Here, you'll find everything you need to know about dyeing your brows at home and the best kits out there to get started.
Tinting at home vs in the salon
Getting your brows tinted at the salon is pretty different to getting them done at home. It's important to know what the differences are to manage your expectations and get the best results possible.

"The main difference between tinting in a salon vs at home is that at the salon we offer consultation and professional advice about the colour of the tint and the shape of the brows to create a bespoke tint that flatters your individual skin tone, hair colour and face shape," says Yana Gushchina, founder of Browfique. "This can be difficult to achieve from home, especially as in the salon we have a wide range of colours to select from, to compliment an extensive variety of skin and hair tones," she adds.
Because of this, tinting kits are especially great if you don't want a big transformation, but want to maintain what you already have at home. They're quick, easy and super cost-effective.
A guide to eyebrow tinting at home
The great news about tinting your brows at home is that it's straightforward and all of the information you need comes on the instruction sheet you get with your kit. But here's the general jist.
First, it's a good idea to lay all of your products out as well as a towel you don't mind getting messy, especially if the kit requires mixing yourself. Preventing dye stains is far easier than trying to clean them up.
Next, cleanse the brow using an oil-free cleanser and make sure it's fully dry and apply a barrier cream—this can be your moisturiser or Vaseline—to ensure the dye doesn't stain your skin.
Then it's tinting time. Make sure your formula is all mixed up, if required, and apply the tint to your eyebrows using a brush and spoolie. Leave this on for 3-10 minutes, depending on what the instructions say and how dark you want the colour.
Finally, remove the dye using tissue or cotton pad then rinse with water to make sure all of the dye is completely removed. Ta-da—you've got brand new brows.
Limitations to tinting your eyebrows at home
There is a risk of allergy or reaction when using at-home kits so it's important to always do a patch test before going in and tinting the entire brow. "The risks at home of allergic reactions, chemical burns, infections or contact dermatitis are much greater where there is a lack of professional knowledge about the process," says Yana. Therefore, it's important to do a patch test and also only leave the dye on for the correct amount of time.
Since it can be hard to control the depth of colour, if you are blonde or a redhead and want to keep your colour very light, you may want to visit a professional and get their opinion on at-home kits, otherwise you could risk going darker than anticipated.
At-home dyeing kits are for the most part very safe, so as long as you follow the instructions you shouldn't come into any issues. Plus, they're incredibly convenient and great value for money.
Best eyebrow tinting kits chosen by a beauty editor
1. Eylure Dybrow
The best at-home brow tinting kit out there is the Eylure Dybrow, a permanent dye that works in just 15 minutes. One kit contains up to 12 applications, making it the best value. It comes with an activating cream, developer gel and spoolie to brush into your brows with the instructions being incredibly easy to follow.
This kit only comes in three shades so is better for those with darker hairs. With promises to last up to six weeks, which I think is pretty accurate. This one has a tendency to dye the skin, so make sure you use a barrier cream to avoid that.
2. Schwarzkopf Brow Tint
If grey coverage is on the top of your wish list, this is the one for you. It's got great coverage and is a doddle to apply. The set comes with colour cream, developer lotion, a mixing tray and an application brush, which is really precise making it a lot easier to use than other kits.
The one downside compared to other is that it doesn't tend to last the longest, despite being a permanent dye. However, the kit contains 10 applications so still worthy of your attention. As many others, this can stain the skin so get that barrier cream on and try not to get any on your hands.
3. Mylee Express 2-in-1 Lash and Brow Tint
Mylee Express 2-in-1 Lash and Brow Tint
The main selling point for this kit is that no mixing is needed so it's far less of a faff than others, especially if you're a little clumsy. It also only takes five minutes to do, which is ideal for those don't love to spend time on treatments.
It's available in four shades and the kit comes with a dual-ended applicator, featuring a spoolie and a small angled brush; ideal if you like to be really precise with your application. This one doesn't last as long as the others though, it promises up to six weeks, whereas I'd say it lasts nearer to four weeks.
4. Ardell Brow Tint
Ardell Brow Tint
Reasons to buy
+
Great for sensitive skin
Reasons to avoid
-
Doesn't last long
-
Comes with a spoolie but not a brush
Now, I'll admit, this kit is a bit of a mixed bag but it's worth mentioning because it works well for sensitive skin types thanks to its paraben, ammonia and peroxide-free formula.
This formula isn't as elegant as others as you've got to mix the powder and developer together so the consistency isn't very smooth or super easy to apply. This one is great if you don't want your colour to last a long time, as this one promises up to two weeks. If you're looking for longer, this kit isn't for you.
5. Kiss Brow Tint Kit
Kiss Brow Tint Kit
Reasons to avoid
-
Can be slightly harder to remove than others
If you're not sure how dark you want your brows, this kit allows you to control how deep the colour is by how long you leave it on for; great if you're new and a little nervous to the brow tint world. The kit comes with the colour cream, developer solution, mixing bowl, mixing stick and spoolie for application.
Celebrity news, beauty, fashion advice, and fascinating features, delivered straight to your inbox!
Tori is a freelance beauty journalist and contributor for Marie Claire. She has written for various titles, including Allure, Glamour, Elle, Refinery29, Brides, and more. Currently training to be a nail tech, Tori is a total nail enthusiast and always has time to talk all things nail art. When she's not writing about beauty and testing products, Tori can be found walking her rescue dog Pip, drinking great coffee, and eating as many croissants as humanly possible.