The wedding make-up you should never wear (ever)
It's the day you want to look your absolute best for the cameras and the crowd - here's how to avoid the most common wedding make-up pitfalls...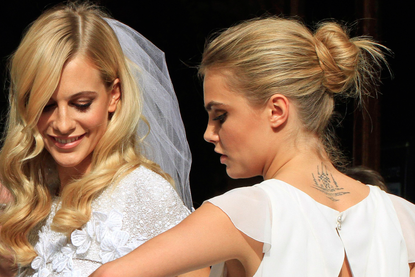 (Image credit: Rex Features)
It's the day you want to look your absolute best for the cameras and the crowd - here's how to avoid the most common wedding make-up pitfalls...
When we think about the best celebrities weddings, Poppy Delevingne comes to mind. It's unanimous at MC Towers that her dress was heavenly, those super shiny waves were exactly where beachy meets glam and her natural wedding make-up showed off just how beautiful she is.
So how do you do it too? Well, although there's not a set formula to follow, avoid these sure-fire make-up clangers and you'll be well on your way to nailing that bridal beauty look.
Need help finding the perfect foundation for your wedding day? This guide tells you the top three for your skin type and preferences!
Say no to SPF It's the only day of the year we'd tell you to do this but avoid foundations with SPF built-in because the bulky particles don't always sit smoothly on the skin but more importantly, are a nightmare with cameras. When the camera flashes, the zinc molecules in SPF reflect the light, causing skin to look white and ghostly. For the sake of good pictures, forgo the sun protection and stay out of direct sunlight.
This is NOT the day for falsies Strip lashes are for a night out and have no place on a delicate bridal look. Most wedding ceremonies are in the middle of the day when the sun is at its highest overhead which means that a heavy fan of lashes casts a big dark shadow over eyes. If your own lashes are on the puny side, add in a few strategic individual lashes or have the most natural of professional lash extensions.
Red lips, real problem We all love a statement lip and with a white dress it can look super striking, problem is the photos. If you want the option of black and white photos (most people do) then watch out because red lips turn out black. Goth bride, anyone?
Too much fake tan Controversial, yes, but a healthy spritz of fake tan is not a great idea with a white dress because...
a) it can make the dress look ultra white and blocky b) you risk getting brown marks on the dress c) your groom will look pasty in comparison
So, go couple of shades lighter than usual and have it done at least two days beforehand.
Leave the lipgloss Here's the thing, having pictures outside means there's going to be an element of wind blowing your hair or veil across your face and if you wear lipgloss, it's likely to be a sticking point. Also, it's the one day you potentially kiss a hundred people and leaving traces on their cheeks is annoying for both you and them. Instead, opt for a lip stain that will stay in place no matter the number of embraces and will still look good in the evening pictures.
Cake good, caked bad It's a long day and make-up touch-ups are inevitable but there are better ways to combat shine than piling on the powder. Blotting papers are super slimline so fit in your clutch easily and take away oil without adding more layers on.
10 bridal make-up dos and don'ts you need to pay attention to...
Save
Save
Celebrity news, beauty, fashion advice, and fascinating features, delivered straight to your inbox!