Everything you need to know about flamboyage
Beachy waves, here we come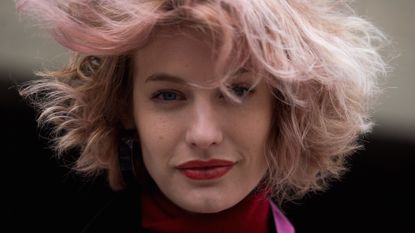 (Image credit: Morales/WWD/REX/Shutterstock)
Beachy waves, here we come
Love beach blonde tresses but don't want your hair to look bleached? Enter the colour technique that promises to give you natural, sun kissed highlights (without the holiday).
The technique was created by mega stylist and Davines Art Director Angelo Seminara and is used in all Blue Tit Salons.
Unlike other hair colouring technique (including ombré, balayage, and highlights), flamboyage combines both balayage and ombre method, Blue Tit Brixton's head colour technician and stylist Lidia tells us.
The end result? Hair depth, vibrant colours and a natural look that won't suffer that regrowth, obvious roots, effect.
The technique is actually quite straightforward: the hairstylist uses a clear, adhesive paper called Flamboyage Meche. The large strip of self-stick paper is created to be versatile, practical, and very easy to use, giving your hairstylist an opportunity to apply the right amount of colour to create depth and dimension to your hair in the most creative and artistic way possible.
The selected hair is placed on the adhesive paper and creatively removes excess hair so the hair left in the adhesive will be coloured (the secret to get the colour flowing naturally), while the paper strip becomes the working surface (similar to balayage).
After the colouring, the panel is then folded in half and sealed. Since the paper strip is visible, you can check the colour development at a glance, it gives your hairdresser better control.
Basically, it'll be blended while also minimalising the distinction between your roots and newly did hair.
Whether you have thick and curly, or fine and straight hair, any hair types work for flamboyage (rejoice!) and it also works well for grey hair too.
And not forgetting to mention, hair stylist and clients alike love how flamboyage is low in maintenance unlike other hair colouring techniques.
Um, sign us up?
The technique is available at all Blue Tit salons, with prices starting at £75.
Celebrity news, beauty, fashion advice, and fascinating features, delivered straight to your inbox!