Gwen Stefani on heartbreak, space buns and her love of red lipstick
Prepare to fall even more in love with Gwen Stefani...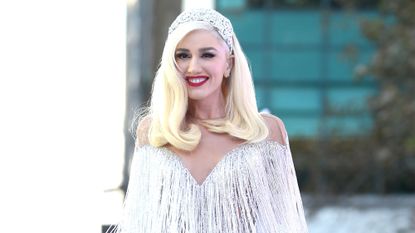 Prepare to fall even more in love with Gwen Stefani...
When I told the Marie Claire team I was going to be interviewing the iconic Gwen Stefani the news was met with yelps and squeals of delight, summing up the impact of a mere mention of the award-winning songstress' name. And no wonder; from her days in No Doubt, her tumultuous marriage (and subsequent divorce) to her chart-topping solo career, we've fallen head over heels for the American pop queen.
I met Gwen in the suite of a suitably luxe London hotel, where she sat curled up under a thick blanket away from the cold winter weather. On entering the room she immediately jumped up to greet me, full of energy despite a hectic schedule that started with back to back radio interviews in the early hours of the morning. Dressed in a fabulous, fitted, rose print dress complete with a vintage loose wave and a cat-eye flick, there was no doubt I was in the presence of a star. And one who seemingly hadn't aged for a good 10 years (tell us your secrets, Gwen!)
Flanked by two assistants Gwen immediately started chatting freely about her love of makeup, how her 'mum was the ultimate beauty inspiration' and revealing why she thinks Christmas is the most magical time of the year. Keep scrolling to find out how we got on...
On a classic red lipstick....
Everyone always thinks that I'm never without a red lipstick - that I even sleep in it. Definitely when I'm performing or out for a meet and greet it's my go-to colour and if you see photos of me it's usually in a bright red, but I don't actually wear it everyday. Case in point today, I wanted to give everyone a little surprise! I'm channeling the 60's with a nude lip, vintage wave and a big cat-eye flick. I love red lipstick so much because it feels like such a classic but it's still so personal. There are so many different ways to wear it. I have a really vivid memory of doing a meet and greet in LA and over 300 women turned up. So many of them were wearing red, it was quite surreal, I could see myself in everyone of their looks but then each person looked so unique because of the rest of their makeup and their outfit.
On her all time favourite lipstick...
Revlon's Super Lustrous Lipstick in Revlon Red is amazing, you only have to apply it once and it stays on all day. I usually go for a red with a blue undertone as it pops against my skin. When I was younger I used to prefer a brighter red with an orange undertone. To find the shade that suits you check out our best red lipstick round-up.
Shop now: Revlon Super Lustrous Lipstick in Revlon Red for £7.99 from Boots
On vintage makeup...
My favourite thing to do is recreate looks from different decades, basically anything that's vintage and iconic. Today I'm 60's style, yesterday I was 50's. I love mixing it up depending on your mood or what you've got on that day.
On those infamous space buns...
When I wore those space buns, back in the 90's, I was in a bit of a weird space personally. I was 29 and living at home, I'd just been dumped by my boyfriend who I'd thought I was going to marry so that was awful and then my brother left our band after we'd been together for 9 years. There was so much turmoil in my life and then my hair was so damaged from all the styling after I'd been on tour and it was breaking off. Then when got home I dyed it strawberry blonde and I absolutely hated it! So you know what I actually felt awful at the time and thought it was the ugliest hair I'd ever seen in my whole life! The space buns were the only way to deal with it – I just wanted to help it grow out and that was the easiest way to do it. That's the story of my life really; flaunt what's good about you and disguise the rest!
On heartbreak...
Heartbreak produced some of my best ever lyrics and my best ever writing, I think because the emotions were so powerful. Even now I find it so hard to listen to Return To Saturn because it still has such a powerful effect on me and takes me back to that crazy time in my personal life.
On her biggest style regret...
When people ask 'what look do you regret the most?' I just don't have an answer. I don't regret any of my outfit choices or makeup because it honestly reflected whatever was going on in my life at the time - just like the music did.
On her secret to thick brows...
My brows are actually really fine, I just fake it with the best eyebrow pencil. The Revlon ColorStay Brow Crayon is amazing. In the 90's I shaved off by brows and used to draw on a really thin line drawn instead. Growing up in Anaheim in the US there was a big Hispanic population because we were close to the border of Mexico so my style was really inspired by the look of a Cholla girl and their stunning makeup; their artistry was amazing. And then there were hip hop influences behind my style too. Looking back it was quite a harsh makeup look, there was definitely an attitude to it but everyone was doing those ultra fine brows back then.
Shop now: Revlon Colourstay Brow Crayon for £6.99 from Boots
On experimenting with hair colour...
I've been colouring my hair for years, ever since I was in 9th grade when my Mum first started letting me do it. I've been strawberry blonde, pink and blue in the past. When I was younger I just wanted anything that would stand out but I feel most comfortable and like myself as a blonde. I definitely think blondes have more fun!
On Christmas traditions...
I'm such a HUGE Christmas lover. The Stefani's have always gone big for the holidays and the festive period is just associated with the best memories. My Grandma always did an amazing Gingerbread house, actually that's not even doing it justice. It was a whole gingerbread village with a little Church and everything. That's why I wanted to do my new Christmas album, You Make It Feel Like Christmas, it makes me feel like a little Christmas fairy bringing the joy!
On Christmas day....
I never go barefaced - not even for Christmas! It's the perfect excuse for a bit of sparkle and glitter! I have all the family over, we wake up early and have open presents together. Then the kids are all playing games. It's such a magical time of year.
Celebrity news, beauty, fashion advice, and fascinating features, delivered straight to your inbox!