You'll find this unique type of perfume in pretty much every beauty editor's handbag—these are our favourites
Perfect for travel, too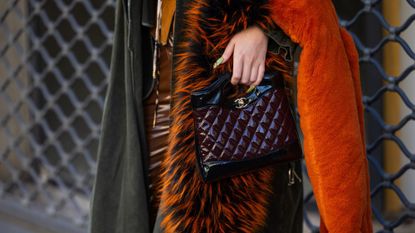 (Image credit: Getty Images)
I'm calling it: some of the best fragrances can't be spritzed. Solid perfumes have been in my fragrance wardrobe from the moment I first tried Jo Malone London's solid perfume years ago. Whilst they might not be the most popular perfumes in 2023, this niche fragrance category deserves a place in your collection.
They're small, compact and undeniably stylish. At any given time, I've got a few solid perfumes stashed away within arm's reach - on my desk, in my handbag, and even one in my car. And of course, they're the first thing I pack when flying.
If that's not enough, solid perfumes can also be a slightly more sustainable fragrance option as the waxy balm is refillable, meaning you keep the compact forever replacing the used-up scent when you're finished.
Have I peaked your interest? I've rounded up the very best solid perfumes out there, plus everything you need to know about them, straight from a master perfumer.
What are solid perfumes?
Solid perfumes are exactly what the name suggests: fragrance in a solid formula. They often come in a beautiful sliding compact with a scented wax inside. Although it seems like the formula would be completely different to your spritz perfume, they're both formulated in a similar way. "The strength in the solid perfume depends on the fragrance character and the dosage levels, so the strength can vary," explains master perfumer, Ruth Mastenbroek.
Solid perfumes are made from a combination of natural materials like beeswax and almond oil with fragrance added to it. "The fragrance needs to mask any base odour created by the waxes—this could give an impression of the fragrances not being as strong, but it is very individual," Mastenbroek adds.
Do solid perfumes last longer?
Let's be real, the one thing we all really want to know when it comes to fragrance is "how long does it last?" The great news is that solid perfumes can last for hours. "If you wear them on your pulse points the fragrance will emanate from the warmth of your heartbeat (just as with a regular alcohol-based fragrance)," Mastenbroek says.
So pop the balm on your wrists, behind your ears, the base of your neck and inside your elbows. It also works very well on your décolletage.
What's more, since alcohol evaporates more quickly than waxes, you might find that the solid version of your perfume actually lasts longer. As with many perfumes, though, it's all down to the ingredients as to how long it'll linger on the skin. "Take patchouli oil, which can last more than 24 hours on the skin," adds Mastenbroek.
How to use solid perfumes?
There are a few ways to get the most out of your solid perfume. The first is keeping it handy in your bag when you're out and about to top up your scent. It's particularly great to apply when in public spaces or in close quarters when spritzing isn't particularly courteous.
It's also a great way to layer up fragrance. "Applying a solid perfume as a layer before spraying a regular perfume can work really well," says Mastenbroek. "The effect could be similar to using a body lotion before applying perfume because the [oils] of solid perfume stick to your skin and provide a substrate for the perfume to latch onto and gradually release from," she adds.
"The convenience and versatility [of solid perfumes] mean you can wear them individually or layer together, travel with them (especially flying), and create different effects with your regular perfumes," Mastenbroek says.
The best solid perfumes, reviewed by a beauty editor
1. Diptyque Eau Rose Refillable Solid Perfume
Diptyque Eau Rose Refillable Solid Perfume
Reasons to buy
+
Beautiful cases
+
Unique and collectable art work
Reasons to avoid
-
More expensive than others
In my opinion, it doesn't get more beautiful than the weighty Diptyque solid perfume cases. This is my go-to gift idea when I want to get someone something rather special and unique that won't break the bank. There are seven iconic Diptyque scents to choose from — my favourites are always Eau Capitale or Eau Rose — each with their own individual decorated case. The fragrances themselves are long-lasting and creamy, making them easy to apply without having to reapply to often. Although I've had a Diptyque solid perfume for years, it always feels special using it.
2. Glossier You Solid Perfume
Glossier You Solid Perfume
Reasons to buy
+
Beautiful skin scent
+
Unique packaging
+
More affordable price point
Reasons to avoid
-
Needs a few applications
I love this one for its iconic pink packaging alone, but the scent inside is just as stunning. Glossier's You is a simplistic and familiar skin scent, making this one ideal for layering up with your existing perfume. It's a fantastic fragrance to apply while travelling or in close quarters as it smells fresh and clean without being overpowering.
3. Jo Malone Solid Scent Duo Palette
Jo Malone Solid Scent Duo Palette
Reasons to buy
+
Two scents in one case
+
A beautiful sliding compact
Reasons to avoid
-
Expensive as you have to buy the solid scents separately
The product that made me fall in love with solid perfumes: the Jo Malone Duo. Obviously the USP for this one is that you can have two scents instead of just the one. I found this great for travelling when I wanted more than just one scent when I'm away and I also love layering the two together. I love adding this as a base on pulse points before spritzing on the traditional perfume in the same scent over the top.
You can buy existing duos or choose your own from 12 of the brand's bestselling fragrances.
4. Tenth Muse Solid Perfume
Tenth Muse Solid Perfume
Reasons to buy
+
Independent business
+
Chic, sustainable case
Reasons to avoid
-
I'm racking my brain and coming up with nothing
Tenth Muse is a fantastic small business with solid scents housed in beautiful sage, refillable packaging that is 100% recyclable. The founder Sophie created Tenth Muse after experiencing long COVID, where she found traditional perfumes caused irritation. The four scents to choose from offer a beautiful alternative to spritz perfumes.
5. Lush Solid Perfume
Lush Solid Perfume
Reasons to buy
+
Affordable
+
Lots of scents to choose from
Reasons to avoid
-
Not as chic as others in the list
Pioneer of solid beauty products, of course Lush has nailed solid perfume too. These little pots might not be the most chic, but they've got everything you'd expect for a solid perfume. They're long-lasting, easy to apply and you get a really good amount of fragranced balm for your money. With 12 scents to choose from, there's a Lush solid perfume for everyone.
6. Shiro White Tea Solid Perfume
Shiro White Tea Solid Perfume
Reasons to buy
+
Simplistic
+
Can be used for cuticles
Made with shea butter and beeswax, this solid perfume is creamy, minimalist and beautiful in its simplicity. It's not as long lasting as other scents but that actually works in its favour - it's a wonderful base for layering. Because of its moisturising ingredients, it can even be used on your cuticles.
7. Unifrom Frankencense Solid Perfume
Unifrom Frankincense Solid Perfume
Reasons to avoid
-
One of the most expensive on the list
Perhaps the most stylish solid perfume on the list, this is like a piece of art in your pocket. Although the weighty metal casing is worth it alone, the inside is just as nice. A beautiful traditionally male scent with notes of frankincense, jasmine, cedar, sandalwood and amber; this alcohol-free formula will linger and last the entire day.
8. Jo Loves Paintbrush
Jo Loves Paintbrush
Reasons to buy
+
Hybrid between traditional and solid
+
Hygienic
Reasons to avoid
-
Not technically a solid perfume
Okay, okay, I know this isn't technically a solid perfume but it really does deserve a mention. These Jo Loves paintbrushes are unique; they have a gel-like texture that dries down quickly leaving a beautiful, long-lasting scent. There are plenty of fragrances to choose from, but I particularly love Jo by Jo Loves, an easy-to-wear citrus blend. This is the perfect travel companion and handy to keep in your bag for on-the-go, especially if you're big on your hygiene and don't like the idea of putting your fingers into a waxy pot of fragrance.
Celebrity news, beauty, fashion advice, and fascinating features, delivered straight to your inbox!
Tori is a freelance beauty journalist and contributor for Marie Claire. She has written for various titles, including Allure, Glamour, Elle, Refinery29, Brides, and more. Currently training to be a nail tech, Tori is a total nail enthusiast and always has time to talk all things nail art. When she's not writing about beauty and testing products, Tori can be found walking her rescue dog Pip, drinking great coffee, and eating as many croissants as humanly possible.