The Queen is reportedly back riding her horses at Windsor Castle
It's great news for the equestrian-loving monarch.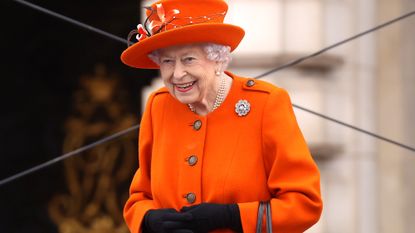 (Image credit: Getty Images)
It's great news for the equestrian-loving monarch.
There's been a watchful eye on Queen Elizabeth II's health over recent months. Issues with her mobility have meant that the 96-year-old monarch has had to miss events such as the State Opening of Parliament, or in the case of her recent Platinum Jubilee, have - understandably - left her feeling fatigued.
So, it's great news to hear that the Queen is reportedly back riding her horse again for the first time in nine months. It's believed that the Queen was advised by doctors last year to give up horse riding after suffering from 'discomfort'.
A royal source told The Sun newspaper that "the Queen has enjoyed being on her horse again."
They added: "Riding again is a wonderful sign after all those worries we had about her health. To be able to do so at 96 is pretty remarkable."
Queen Elizabeth II is famously a keen horsewoman and horse racing fan. Having got her first pony when she was just three-years-old, the monarch has been riding ever since.
A passion for horse riding is also something that the Queen has passed down in her family: both her daughter, Princess Anne, and granddaughter, Zara Tindell, have competed at the Olympic Games in equestrian disciplines. Prince Harry and Prince William are also more than comfortable on a horse, having taken part in numerous polo matches.
As well as enjoying horse riding, the Queen also owns and is a breeder of thoroughbred horses. The monarch, who loves a little flutter at Royal Ascot, has seen her own horses win races at the event a number of times.
According to Tatler, the Queen was also recently presented with a rare - and very expensive - horse by the the President of Azerbaijan, Ilham Aliyev in celebration of the monarch's 70 years on the throne. The breed, which is native to Azerbaijan is one of the most valuable racing breeds, says the society magazine, with one having sold at auction not long ago for around £14,000.
Although Buckingham Palace keep updates on the Queen's health to a minimum, for privacy reasons, if the monarch is back riding her horses - as reported - it's a positive step.
Celebrity news, beauty, fashion advice, and fascinating features, delivered straight to your inbox!
Amy Sedghi is a freelance journalist, specialising in health and fitness, travel, beauty, sustainability and cycling.
Having started her career in The Guardian newsroom working with an award-winning team, Amy's proud to have reported on a variety of topics, speaking to a range of voices and travelling far and wide to do so. From interviews on ski lifts to writing up breaking stories outside courtrooms, Amy is used to reporting from a range of locations (she's even been known to type up a story in a tent).
She also loves being active, spending time outdoors and travelling - with some of her favourite features she's worked on combining all three. Cycling and eating her way round the Isle of Man, learning to sail on the Côte d'Azur and traversing the Caminito del Rey path in Spain are just some of her highlights.
Covering a diverse range of subjects appeals to Amy. One minute she may be writing about her online styling session with Katie Holmes' stylist and the next she's transporting readers to the basketball courts of Haringey where she joined a group trying to lower knife crime in the capital.
While at university, Amy was awarded The Media Society bursary. Following her stint at the Guardian, Amy worked at Google and as well as writing for Marie Claire, she regularly contributes interviews, features and articles to National Geographic Traveller, The Guardian, The Independent, The Telegraph, Stylist, Refinery29, Glorious Sport, Cycling Weekly and Rouleur.
When she's not writing, Amy can be found trying to get through her towering stack of books-to-read, cycling down at Herne Hill Velodrome or looking for the next place to eat and drink with friends.