Prince William faces backlash over comments about Ukraine
The Prince faced harsh criticism online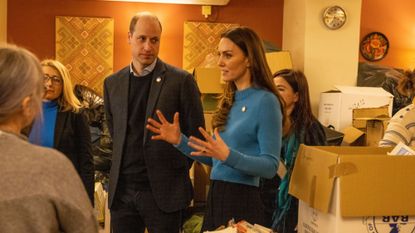 The Prince faced harsh criticism online
Prince William is facing backlash after comments he made about the Ukrainian conflict yesterday.
The Duke and Duchess of Cambridge met volunteers at the Ukrainian Cultural Centre to discuss the plight of refugees and the efforts made by the centre to provide aid.
Addressing onlookers the heir to the throne said: "Everyone is horrified by what they are seeing. It's really horrifying.
"The news every day, it's just, it's almost unfathomable.
"For our generation, it's very alien to see this in Europe. We're all right behind you.
"We're thinking about you. We feel so useless."
His comments have since caused mass controversy online, with many social media users flagging his use of the word "alien" to describe conflict in Europe.
One human rights lawyer criticised William, who is second-in-line to the throne, for not recognising the history of the British Empire.
Human rights lawyer Qasim Rashid wrote on twitter: "Prince William says conflict is 'very alien' to Europe, unlike Asia & Africa.
"How do you have a 1,000-year history of colonialism, a literal 100-year war, launch 2 World Wars, allow multiple genocides, and bomb a dozen nations since 9/11 alone — yet make this type of a statement?"
However, initial reports of William's comments published in the Daily Mail newspaper and the Press Association misquoted the Prince as saying: "we are more used to seeing conflict in Africa and Asia." Since then, video footage from the conversation has emerged that he didn't utter those words at all.
During their visit to the Ukrainian Cultural Centre, William revealed that himself and Kate had spoken to their eldest children, Prince George and Prince Charlotte about the conflict.
William went on to say: "Ours have been coming home asking all about it. They are obviously talking about it with their friends at school."
Adding that he had to "choose my words carefully to explain what is going on".
Celebrity news, beauty, fashion advice, and fascinating features, delivered straight to your inbox!
Juliana Piskorz is a freelance journalist and broadcaster. Over the course of her career she has written for a smorgasbord of magazines and national newspapers including The Sunday Times, Dazed and Confused, the Independent, the Guardian, Refinery29 and The Face among others.
Before going freelance, Juliana was the Digital Editor at the Evening Standard Magazine and a Staff Writer at the Observer Magazine.
Juliana has a partcular interest in art, fashion, travel and the pop culture.