Prepare To Be Inspired By These Celebrity Commencement Speeches From Amazing Women
Graduating from university can be a daunting task, so we've rounded up our favourite quotes from the most inspiring celebrity commencement speeches over the years.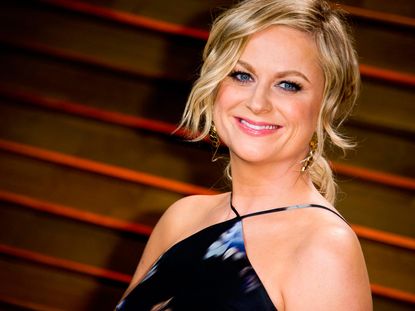 Graduating from university can be a daunting task, so we've rounded up our favourite quotes from the most inspiring celebrity commencement speeches over the years.
Every year when graduation rolls around, the top American universities invite inspiring and powerful women to deliver celebrity commencement speeches to their talented and impressionable students. We've picked out our favourite quotes from the likes of Amy Poehler, JK Rowling and Kerry Washington. Read on and prepare to feel motivated... Ellen DeGeneres 'Follow your passion, stay true to yourself, never follow someone else's path unless you're in the woods and you're lost and you see a path, then by all means you should follow that. Don't give advice, it will come back and bite you in the ass. Don't take anyone's advice. So my advice to you is to be true to yourself and everything will be fine.' Tulane University, 2009 Arianna Huffington 'Remember that while there will be plenty of signposts along your path directing you to make money and climb up the ladder, there will be very few signposts reminding you to stay connected to the essence of who you are, to take care of yourself along the way, to reach out to others, to pause to wonder, and to connect to that place from which everything is possible.' Smith College, 2013
Julie Andrews 'Use your knowledge and your heart to stand up for those who can't stand. Speak for those who can't speak. Be a beacon of light, for those whose lives have become dark. Fight the good fight against global warming. Be a part of all that is good and decent. Be an ambassador for the kind of world you want to live in.' University of Colorado Boulder, 2013
Amy Poehler 'As you navigate through the rest of your life, be open to collaboration. Other people and other people's ideas are often better than your own. Find a group of people who challenge and inspire you, spend a lot of time with them, and it will change your life.' Harvard University, 2011 Oprah Winfrey 'It doesn't matter how far you might rise. At some point you are bound to stumble. ... If you're constantly pushing yourself higher ... the law of averages, not to mention the Myth of Icarus, predicts that you will at some point fall. And when you do I want you to know this, remember this: There is no such thing as failure. Failure is just life trying to move us in another direction.' Harvard University, 2013
Barbara Kingsolver 'If somebody says 'your money or your life,' you could say, 'life', and mean it. You'll see things collapse in your time, the big houses, the empires of glass. The new green things that sprout up through the wreck - those will be yours.' Duke University, 2008
J.K. Rowling 'We do not need magic to change the world, we carry all the power we need inside ourselves already: we have the power to imagine better.' Harvard University, 2008
Kerry Washington 'When you leave here today and commence the next stage of your life, you can follow someone else's script, try to make choices that will make other people happy, avoid discomfort, do what is expected, and copy the status quo. Or you can look at all that you have accomplished today and use it as fuel to venture forth and write your own story. If you do, amazing things will take shape.' George Washington University, 2013 Shonda Rhimes 'Dreams do not come true just because you dream them. It's hard work that makes things happen, it's hard work that creates change... Ditch the dream and be a doer, not a dreamer….My dreams did not come true. But I worked really hard. And I ended up building an empire out of my imagination. So my dreams? Can suck it.' Dartmouth College, 2014
Sheryl Sandberg, Facebook COO 'There is no straight path from your seat today to where you are going. Don't try to draw that line. You will not just get it wrong, you'll miss big opportunities. And I mean big—like the Internet. Careers are not ladders, those days are long gone, but jungle gyms. Don't just move up and down, don't just look up, look backwards, sideways around corners. Your career and your life will have starts and stops and zig zags. Don't stress out about the white space - the path you can't draw - because therein lies both the surprises and the opportunities.' Harvard University 2014
Melinda Gates 'I don't want you to connect, for connection's sake alone. I want you to connect because it will inspire you to do something. To take action. To make a difference in the world. Humanity in the abstract will never inspire you the way meeting another human being will. Poverty is not going to inspire you to do something, but meeting people – that will inspire you.' Duke University 2013
Celebrity news, beauty, fashion advice, and fascinating features, delivered straight to your inbox!
The leading destination for fashion, beauty, shopping and finger-on-the-pulse views on the latest issues. Marie Claire's travel content helps you delight in discovering new destinations around the globe, offering a unique – and sometimes unchartered – travel experience. From new hotel openings to the destinations tipped to take over our travel calendars, this iconic name has it covered.