Christy Turlington tackles maternal mortality
Following her own terrifying ordeal during labour, Christy Turlington has put her hand to film-making and produced a powerful documentary on maternal health around the world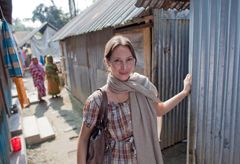 (Image credit: Rex Features)
Following her own terrifying ordeal during labour, Christy Turlington has put her hand to film-making and produced a powerful documentary on maternal health around the world
After suffering a postpartum haemorrhage while giving birth to her first child, Christy Turlington learned that the lack of reproductive health care worldwide results in 500,000 maternal mortalities a year.
The realization that 90% of these deaths are preventable led Christy on her crusade to raise awareness for women, working as an advocate for maternal health and reproductive rights.
Two years after her own experience, and six months pregnant with her son Finn, Christy went with CARE to El Salvador and witnessed the terrifying conditions endured by pregnant women.
'Pregnant women and new mothers had to walk ten or more miles to get clean water,' she says. 'It was a catalytic moment. I wanted to find out more about these women, to delve in and get my hands dirty.'
It was three years later, on a trip to Peru, that the supermodel came up with the idea of making her own documentary No Woman, No Cry to educate women on local health services.
In her gripping directorial debut, Christy shares the powerful stories of impoverished women during the final harrowing days of their pregnancies in Tanzania, Bangladesh, Guatemala and the US.
Turlington recalls a woman in Guatemala who was in hospital following a botched abortion of a baby conceived through rape. During her six weeks there, her husband and family didn't visit her once because of the social stigma.
'By the time we started editing I was so fired up I could work 15 hour days without thinking,' she says. On viewing the footage, shes says; 'First of all you go in to deep shock, after that comes anger.'
Since finishing her film, Turlington has gone on to launch the Every Mother Counts campaign and website to raise money and help people learn more about the issues of maternal mortality and the extent of the problem worldwide.
'Right now we are at a critical moment,' says Turlington. 'Maternal and child health was at the centre of the G8 summit last year, and this project provides a perfect opportunity for the first world to build on the momentum of the past few years.'
Read Christy Turlington's exclusive interview in the March issue of Marie Claire, on sale today. To view a trailer of the film, visit: www.everymothercounts.org
FOR MORE WORLD NEWS CLICK HERE
Celebrity news, beauty, fashion advice, and fascinating features, delivered straight to your inbox!