Women pack over 44 items to go on holiday but only use half
According to a new survey, women pack over 44 items but only end up using half of their holiday wardrobe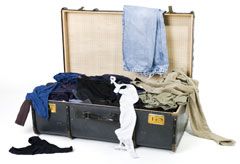 (Image credit: Rex Features)
According to a new survey, women pack over 44 items but only end up using half of their holiday wardrobe
Are you guilty of squeezing in those extra per of wedges or slipping that sixth bikini into your holiday suitcase? Don't worry ladies, you're not alone. According to new research women pack double what they will actually need on their summer getaway.
Apparently the average British woman packs a staggering 44 items for her two week break, but will only end up using just over half.
With an average holiday suitcase consisting of 18 tops, 12 pairs of shorts or skirts, six bikinis and if there's still room, eight pairs of shoes, it's no wonder we spend days before desperately bouncing up and down on our suitcase trying to yank that zip closed.
According to the recent survey, once packed to bursting, the value of an average woman's suitcase totals £1,140.
'Women plan ahead and pack for a whole range of situations,' said Cary Copper, Professor of Psychology at Lancaster University. 'It's not a surprise that women tend to pack a lot of shoes, as of course shoes need to go with all the various outfit combinations.'
It's not just clothes that are tipping the weighing scales. According to a survey conducted by PriceRunner.co.uk almost a fifth of women take more than five books on holiday. That's 22.3 million kilos of holiday reading weighing down their bags!
As a result an increasing amount of women are resorting to e-readers instead, with nearly a third now taking them on holiday. Well that's leaves a little more space for that final maxi dress!
Despite women usually spending around four hours packing their holiday bag, a tenth even admitted to deliberating over it for more than 12 hours, many say they hate the chore.
Almost a quarter of women asked agreed it left them feeling stressed out, while surprisingly more than a fifth revealed it was more stressful than going to work.
Are you guilty of over-packing? Or do you think it is important to pack for all eventualities? Let us know if the comments box below.
Celebrity news, beauty, fashion advice, and fascinating features, delivered straight to your inbox!
Natalia is a health journalist with 14 years experience in the publishing industry. She has worked for a number of well known magazines and websites including Marie Claire, Woman&Home, Top Sante, Boots and The Telegraph. She likes to think she practices what she preaches when it comes to health and fitness. Her athletic prowess began early. A keen fencer for 13 years, she wielded an epée for Olympic Team GB during her teenage years. She likes to think she made sword-fighting cool before Game of Thrones came along! While working on her sporting performance with the team, she also participated in a lot of nutrition and psychology training, When it comes to time off, you'll most likely find her up a mountain somewhere. It seems holidays have become a time for climbing several thousand feet, rather than chilling out. She's now hiked eight of the major mountain ranges across four continents – including the Appalachians, the Smokies, the Sierra Nevadas (she spent her honeymoon hiking to the top of Half Dome), as well as hitting the summits of Snowdon, Pen-Y-Fan (Brecon Beacons), Table Mountain in South Africa, the Blue Mountains in Australia and the Atlas Mountains in Morocco. She's also passionate about all things health, particularly vaccinations, and will happily jump on her soap box at any given opportunity to talk about their benefits to anyone who will listen!