How Sophie Turner (aka Sansa Stark) is helping rape victims around the world
Could we love our favourite Game of Thrones actress any more?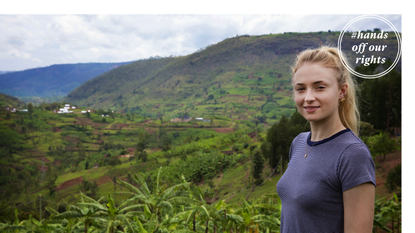 Could we love our favourite Game of Thrones actress any more?
Throughout Game of Thrones, we've watched Sansa Stark go from innocent, wide-eyed princess to disillusioned, broken young woman - a transformation which at times has been difficult to watch.
The most harrowing episode by far in Sansa's transformation took place in Season Five, where she was brutally raped by the sadistic Ramsay Bolton on her wedding night. It led to a huge backlash on social media, causing some fans to declare that they were done with the show. Both Turner and Iwan Rheon (who plays Ramsay in the show) admitted they suffered sleepless nights beforehand, and Game of Thrones producers reportedly resolved to cut back on the amount of sexual violence in the show after facing heavy criticism.
Yet in an uplifting twist, Sophie Turner has resolved to use her profile as Sansa Stark to help real-life rape victims and vulnerable women around the world. This International Women's Day, Sophie will become the new UK patron of Women for Women International, an organisation which helps women in war torn countries rebuild their lives, joining fellow UK patron Helen Mirren.
Sophie stated that it was the 'perfect charity' for her to get involved with after researching her role as Sansa, stating: 'I wanted to help women who had gone through the same thing, and create a discussion so that there's a constant dialogue about it.'
Women for Women International invited Sophie to visit Rwanda and experience the vital impact of their work for herself. Women here are still dealing with the aftermath of the Rwandan genocide in 1994, when over an estimated 500,000 women were systematically raped during the 100 days of violence, in which one million people were killed.
Women and girls are particularly vulnerable in conflict zones - be it through use of rape as a weapon of war, enslavement, or suffering sexual abuse and trafficking.
Through Women for Women International, female survivors of conflict - many of whom are still dealing with trauma - learn about their rights, as well as key life, vocational and business skills to access livelihoods and break free from poverty.
Despite describing her trip as 'harrowing' Sophie Turner also stated that it had inspired her more than she had imagined: 'What I've seen in Rwanda has been really eye-opening. I knew it was going to be sad but in reality I've found myself completely inspired. Which is why I want to encourage everyone - men and women - to get involved and help create a chain of inspiration. Please join Women for Women International's sisterhood (yes men too!) online to let women survivors of conflict and violence know they are not alone.'
Celebrity news, beauty, fashion advice, and fascinating features, delivered straight to your inbox!