7 times Dame Helen Mirren was just the absolute best
'It's been a big pile of sh*t' - Dame Helen on 2016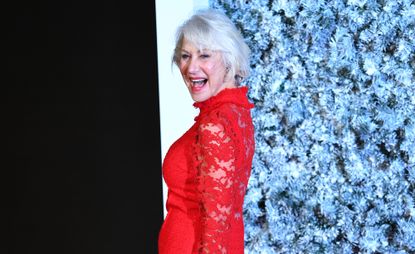 (Image credit: David Fisher/REX/Shutterstock)
'It's been a big pile of sh*t' - Dame Helen on 2016
Dame Helen Mirren is a living legend. End of. No one else evokes her smart, witty, cool and quite simply, that total DGAF energy as much as her. And, when the world caught a glimpse of her latest TV appearance on The Graham Norton Show, where she gave an alternative Christmas message (she basically is the queen), we all rejoiced, because she said what we've all been thinking...
She addressed the audience with, 'Hello, at this time of celebration and togetherness, we have a chance to reflect on the year gone by. And I think we can all agree that 2016 has been a big pile of sh**,' before literally dropping the mic. (Seriously, could she BE any cooler?)
And that's not the first time she's owned TV with her charm and wit, oh no, Dame Helen Mirren has been owning the world for a long time. Have you read all of Helen Mirren's life advice yet? Words to live by, if you ask us. The woman is one of Britain's most successful actresses of all time, after all. Helen Mirren's life story is also a brilliant read. She's won an Oscar, three Golden Globes and four Emmys and is basically, a total force to be reckoned with.
When Helen Mirren completely eviscerated Michael Parkinson (who was being crazy sexist)
When Helen Mirren stole a kiss off Stephen Colbert
When Helen Mirren played 'Heads Up' with Ellen
When Helen Mirren sucked helium while on the Jimmy Fallon show
When Helen Mirren admitted she was a little bit in love with Vin Diesel on Seth Myers' show
When Helen Mirren twerked (yes. really)
See! We bet however much you loved her before, it's now at least doubled right? We can only hope we're this cool at 71 one day. Dame Helen Mirren, we bow down.
Celebrity news, beauty, fashion advice, and fascinating features, delivered straight to your inbox!