There's been new claims of alleged sexual abuse by Tim Westwood
The hip-hop DJ has been accused of "grooming" and being a "predator."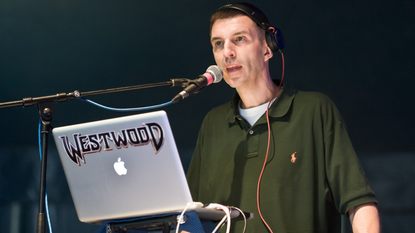 The hip-hop DJ has been accused of "grooming" and being a "predator."
Former Radio 1 DJ, Tim Westwood, is facing further allegations of sexual abuse, according to The Guardian newspaper.
The latest allegations come from a woman who claims Westwood first had sex with her when she was 14-years-old and the DJ was in his 30s. With the legal age of consent for sex being 16-years-old in England and Wales - as it was in the 1990s - this would likely constitute statutory rape.
Her testimony forms part of a joint investigation by The Guardian and the BBC. The claims, in which the woman says Westwood had sex with her on several occasions in the early 1990s, add to several allegations of opportunistic and predatory sexual behaviour from Westwood that The Guardian first reported on in April.
Westwood has previously strenuously denied the allegations of the seven women who featured in the original investigation in April. A spokesperson for the DJ added, at the time of the initial article, that the accusations were completely false and denied in their entirety. Westwood has also previously said "I can categorically say that I have never had an inappropriate relationship with anyone under the age of 18."
According to The Guardian, the woman, and several others, came forward to speak to them and the BBC following that exclusive story. They state that the new allegations relate to "separate incidents of alleged abuse, misconduct and inappropriate behaviour that date from 1990 to 2020."
The woman has described Westwood as a "predator" and told The Guardian and BBC that she felt like the DJ had groomed her. She also admitted to trying to take her own life three times. Asked how she felt about the experience now, the woman responded: "Disgusted. Angry. Upset. Dirty. Yeah, dirty. I wish I could pretend it never happened but it did."
The publication also said that they had put the new allegations to 64-year-old Westwood but that he had not responded.
The testimonies of these and other women feature in a new BBC News documentary, Hip Hop's Open Secret: Tim Westwood, and which the broadcaster say "raises new concerns about the 64-year-old's behaviour over three decades."
The BBC also state: "Other than two who are friends, none of the women we spoke to know each other or have met. All are black."
Westwood, who began hosting BBC Radio 1's first Rap Show in 1994 and was a big name in the hip-hop scene, stepped down from his Saturday night radio show on Capital Xtra following the first series of sexual misconduct allegations.
Celebrity news, beauty, fashion advice, and fascinating features, delivered straight to your inbox!
Amy Sedghi is a freelance journalist, specialising in health and fitness, travel, beauty, sustainability and cycling.
Having started her career in The Guardian newsroom working with an award-winning team, Amy's proud to have reported on a variety of topics, speaking to a range of voices and travelling far and wide to do so. From interviews on ski lifts to writing up breaking stories outside courtrooms, Amy is used to reporting from a range of locations (she's even been known to type up a story in a tent).
She also loves being active, spending time outdoors and travelling - with some of her favourite features she's worked on combining all three. Cycling and eating her way round the Isle of Man, learning to sail on the Côte d'Azur and traversing the Caminito del Rey path in Spain are just some of her highlights.
Covering a diverse range of subjects appeals to Amy. One minute she may be writing about her online styling session with Katie Holmes' stylist and the next she's transporting readers to the basketball courts of Haringey where she joined a group trying to lower knife crime in the capital.
While at university, Amy was awarded The Media Society bursary. Following her stint at the Guardian, Amy worked at Google and as well as writing for Marie Claire, she regularly contributes interviews, features and articles to National Geographic Traveller, The Guardian, The Independent, The Telegraph, Stylist, Refinery29, Glorious Sport, Cycling Weekly and Rouleur.
When she's not writing, Amy can be found trying to get through her towering stack of books-to-read, cycling down at Herne Hill Velodrome or looking for the next place to eat and drink with friends.