Forbes' 100 Most Powerful Women In The World List Is Way Less Predictable Than You Thought...
See who ranked where...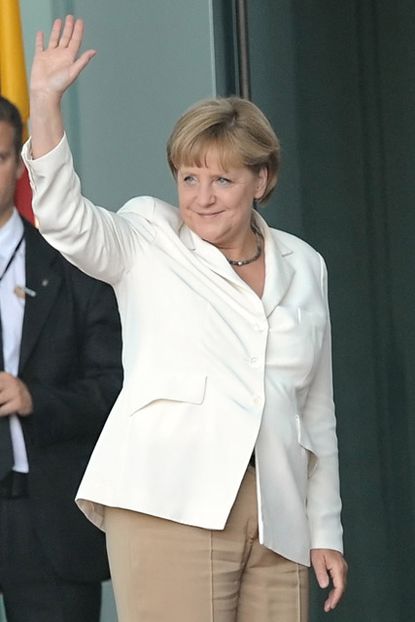 (Image credit: PA Photos)
See who ranked where...
Forbes Magazine has released its 100 Most Powerful Women in the World list and it's no surprise that German Chancellor Angela Merkel has taken the number one slot. She's come in first place eight times and was followed by superwomen like Melinda Gates, Hillary Clinton, Michelle Obama, Oprah and Beyoncé this year.
The list is brimming with CEOs, presidents and world leaders. We're excited to see so many women in high-power positions dominating the global economy.
As the list reads on, however, it gets a little less predictable...
For example, actress Sophia Vergara, comes in at number 32. As the highest-paid actress on television, she brought home $30 million last year. On top of that, the Modern Family star has got some major endorsement deals with CoverGirl, Diet Pepsi, not to mention her own clothing line, fragrance and talent management agency, Latin World Entertainment. Three places behind her is Queen Elizabeth. Who'd have thought?
Forbes' Caroline Howard explains that the candidate pool is selected from eight categories: billionaires, business, celebrity, finance, media, philanthropy and NGOs, politics and technology. 'To determine the rank within each category, as well as overall rank on the list of 100, we apply four metrics: money, media presence, spheres of influence and impact,' she says.
So, that explains why the actress ranks higher than Her Majesty.
Other women worth an honourable mention include Ellen Degeneres, who came in at number 46, actress and humanitarian Angelina Jolie, who ranked 50th, and online news goddess Arianna Huffington, who was behind her at number 52. Coming in at 58 is the 'most liked' person facebook, with a following of 93 million, Shakira. A whole nine places behind her is Lady Gaga, also the youngest woman on the list.
Further down the line are fashion faves Miuccia Prada, Diane Von Furstenburg and Sara Blakely, creator of Spanx (and saviour to us all).
Here are the top 20 Most Powerful Women in the World:
1. Angela Merkel, German Chancellor 2. Janet Yellen, Chair of the Federal Reserve, Washington D.C. 3. Melinda Gates, Philanthropist 4. Dilma Rousseff, President of Brasil 5. Christine Lagarde, Managing Director of the International Monetary Fund 6. Hillary Clinton, US polititian 7. Mary Barra, CEO of General Motors 8. Michelle Obama, First Lady of The United States 9. Sheryl Sandberg, COO of Facebook 10. Virginia Rometty, CEO of IBM 11. Guen-hye Park, President of South Korea 12. Susan Wojcicki, CEO of YouTube and Google 13. Indra Nooyi, CEO PepsiCo 14. Oprah Winfrey, Entrepreneur and personality 15. Irene Rosenfeld, CEO of Mondelēz International 16. Maria das Graças Silva Foster, CEO of Petrobas 17. Beyoncé Knowles, Musician 18. Marissa Mayer, CEO of Yahoo 19. Cristina Fernandez de Kirchner, President of Argentina 20. Meg Whitman, CEO of Hewlett-Packard
Got a tablet? Take the new look Marie Claire wherever you go, download straight to your iPad & iPhone, Kindle (just search the store for 'marie claire magazine'), Nook or Google Nexus for only £2.99.
Celebrity news, beauty, fashion advice, and fascinating features, delivered straight to your inbox!