Kate Middleton hoax DJs have radio show axed from Australian station
Kate Middleton's prank callers have had their show pulled from 2DayFM but keep their jobs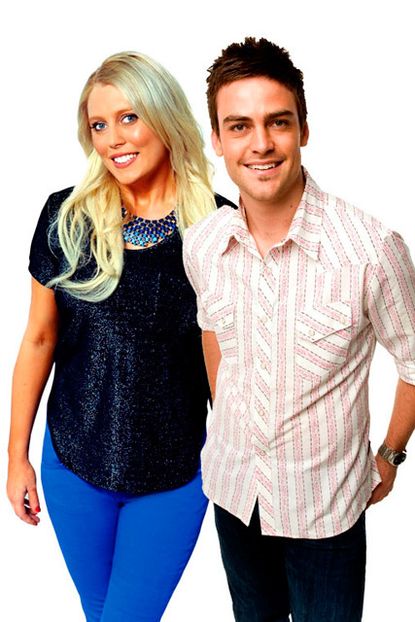 Kate Middleton's prank callers have had their show pulled from 2DayFM but keep their jobs
The Australian DJs who staged a hoax call to the hospital where Kate Middleton was receiving treatment for acute morning sickness have now had their show axed.
Following the death of nurse Jacintha Saldanha, who transferred the call to a ward nurse, Michael Christian and Mel Greig went on paid leave from the station, 2Day FM, but now it has been announced that their show has been pulled.
On Sunday night, station owners, Southern Cross Austereo confirmed a replacement show will be called The Bump and hosted by new presenter Angus O'Loughlin, but will be produced by Emily Mills, who provided the fake corgi noises for the prank call to King Edward VII Hospital.
KATE MIDDLETON UNDERGOING HYPNOTHERAPY FOR MORNING SICKNESS
Austero CEO, Rhys Holleran sais: 'Mel and MC are still employed and on leave.' He also stressed that he has been in contact with the pair, adding: 'We look forward to Mel and MC returning to work when the time is right, in roles that make full use of their talents – we will discuss future roles with them when they are ready.' The original call, made last year, saw the two DJs adopt English accents and impersonate the Queen and Prince Charles, meaning they anaged to obtain private medical details about the Duchess of Cambridge's treatment. Australia's media watchdog launched an investigation into the call as have Scotland Yard.
What do you think? Should Australian DJs Michael Christian and Mel Greig be allowed to return to the station? Have your say below. 50 REASONS KATE MIDDLETON IS A STYLE ICON
Celebrity news, beauty, fashion advice, and fascinating features, delivered straight to your inbox!