Heath Ledger's father speaks about his son's tragic death in 2008
'I loved him so much and was so proud of him.'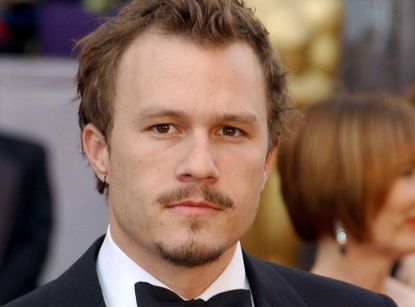 (Image credit: rex)
'I loved him so much and was so proud of him.'
Heath Ledger's father Kim has opened up about the actor and director's tragic death in 2008.
Speaking to the Daily Mail Australia in a heartbreakingly candid interview, the 66-year-old explained that before his son's death, Heath's sister Kate had warned him not to mix prescription medication.
'The last conversation Kate had with him was this discussion about his medications and she warned him, "You can't mix drugs that you don't know anything about.
'He said "Katie, Katie, I'll be fine!" Well, that's a cavalier boy's answer. It just put his whole system to sleep I guess.'
The 28-year-old, who is survived by his daughter Matilda, which he had with actress Michelle Williams in 2005, died from an accidental overdose after taking a combination of several different prescription medications, according to the autopsy result.
'It was totally his fault. It was no one else's. He reached for them. He put them in his system. You can't blame anyone else in that situation,' Kim said. 'That's hard to accept because I loved him so much and was so proud of him.'
Ledger, who died in New York after production wrapped on The Dark Knight, later won a posthumous Oscar for his now infamous portrayal of The Joker in the DC Comics film franchise.
'There's so much pressure on them to perform so even though your body is telling you that it's not good and needs time, it's like "just take these painkillers and keep going,"' he said.
'That was the case with Heath. He had to be back on set to finish [the next day]. They were doing night shoots in the freezing cold and he had a weak chest anyway. He'd caught this [cough] and just couldn't shake it but he thought he had to because he wanted to get the movie done.'
At the time of his death, he was filming The Imaginarium of Doctor Parnassus in New York, with the director Terry Gilliam dedicating the film to Ledger, altering the part of the credits saying 'A Terry Gilliam film' to read: 'A film from Heath Ledger and friends'.
Celebrity news, beauty, fashion advice, and fascinating features, delivered straight to your inbox!
Holly Rains is the digital editor of Marie Claire UK. She has over 10 years journalism experience, working as an editor and writer, specialising in digital media, content strategy and dog breeds. Prior to Marie Claire, she has held senior staff positions at ELLE UK, Grazia and Company magazine.
Holly is a frequent speaker, panelist and interviewer on a range of subjects including media trends, careers and entertainment. From working with Reuters to provide global red carpet coverage for events like the BAFTAs, to discussing fashion and beauty trends on network TV, she was also the host of the Marie Claire series 'Holly's First Dates', where she regularly interviewed a mix of inspiring woman and A-list celebrities (including Jack Black, Dakota Fanning and Renée Zellweger) - a series which garnered half a million views in its first two months. And was approved by The Rock.
Her love of office-based meetings means that the days of discovering the melting point of Cadbury's Flakes are long gone, but when she isn't dreaming of scheduling in meetings, she likes to think about social media, and how best to avoid it whilst still retaining the title of 'digital' editor. She also likes learning about emerging technology, Influencers and how to become a Financially Responsible Adult.
Contact Holly: holly.rains@futurenet.com