Game of Thrones characters you've definitely seen before
Prepare yourself...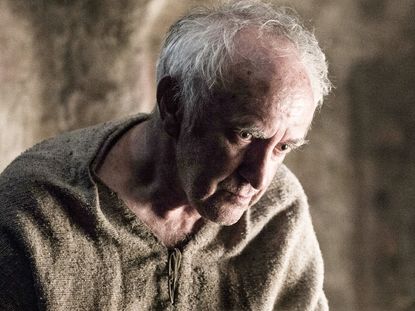 Prepare yourself...
Whether you're an obsessive fan of the HBO mega-series, Game of Thrones, or one of those hangers-on who devour every GOT fan theory even though you've only seen the opening sequence once, it doesn't take a Bran Stark level of foresight to see how much the characters have imprinted on us (soz for the cross-series Twilight reference).
Along with reeling in shock and abject horror at the untimely deaths of some of the show's most high profile characters (Robb Stark, Nedd Stark, Dire wolf Stark, most of the other Starks), not an episode of GOT can go by without us slowly entering a déjà vu spiral, and muttering to anyone in the near vicinity, 'where the hell have I seen that mud-streaked, be-wigged face before?!'.
(A: Hollyoaks, probably...)
But GOT casting directors aggressively trawling the streets of Chester aside, there are a few other notable Game of Thrones cast members that have had quite the illustrious film and TV career P-GOT (pre Game of Thrones).
Jerome Flynn as Bronn
As in, Jerome, one half of the seminal 90s duo Robson and Jerome. Prior to this inspired casting choice, Jerome of Thrones - as he will now be referred to - was already TV royalty, starring in Soldier Soldier with BFF and singing buddy Robson Green and is currently part of the BBC series Ripper Street, which has just been renewed for its fifth series. Splendid.
Peter Dinklage as Tyrion Lannister
Ah, Peter Dinklage. You may know him as the acerbic-tongued Tyrion Lannister, but you probably first spotted him in the Christmas classic, Elf ('SANTAAAA!'), in which he played the angry children's author, Miles Finch.
Roxanne McKee as Doreah
*Hollyoaks klaxon!* Roxanne McKee played Doreah in season one and two of Game of Thrones, but she lasted longer in Chester, playing Louise Summers for four years before she was killed by her fiancé, Warren Fox, on her wedding day. Inexplicably, we're still talking about a Hollyoaks plot.
Nathalie Emmanuel as Missandei
*Hollyoaks klaxon! Part two* Missandei, played by Nathalie Emmanuel has become a fan favourite on the show, but prior to this (and a starring role in the latest instalment of the Fast and Furious franchise, Furious Seven) she played perennially troubled teen, Sasha Valentine, in the soap from 2006 – 2010.
Paul Kaye as Thoros of Myr
Before he had the power to bring people back from the dead, Paul Kaye was most famous for playing flame-haired celebrity interviewer, Dennis Pennis in the 90s. You may also recognize him from the music video to the Fat Les song Vindaloo, may we suggest watching this.
Jonathan Pryce as the High Sparrow The High Sparrow is a bloody annoying character, who, at the time of writing, is still quietly controlling the whole of King's Landing and ladling soup like nobody's business. Prior to this role, Jonathan Pryce played the wig-wearing Governor Weatherby Swann in the Pirates of the Caribbean series.
Charles Dance as Tywin Lannister
Forget being slain by his own son whilst sat on the lav in season four, surely Charles Dance's most memorable moment was dancing around wearing leopard print in Ali G Indahouse. He also played James Bond author, Ian Fleming in the TV film, Goldeneye. Note his luxurious looking tan.
Aidan Gillen as Petyr Littlefinger Baelish
We spend most of our time watching Aidan Gillen aka Petyr Littlefinger Baelish and wondering what part of the Seven Kingdoms his accent descends from. We're still unsure.
Duplicitous accent aside, Gillen was finely tuned to the power of HBO before he signed on with Game of Thrones, starring as Tommy Carcetti in another cult TV fave, The Wire, from 2004. You can also see him in the opening sequence of The Dark Knight Rises.
Michiel Huisman as Daario Naharis
Michiel Huisman may be the second incarnation of Daenerys Targaryen's fancy man, Daario Naharis, but he's also our favourite. You may recognise him after playing 'love interest' to another blonde (sensing a theme here), in the Blake Lively weepy, The Age of Adaline.
(As you can see from the pictures below, not much has changed...)
Bonus picture!
Jerome of Thrones and Robson Green in
Soldier Soldier
Celebrity news, beauty, fashion advice, and fascinating features, delivered straight to your inbox!
Holly Rains is the digital editor of Marie Claire UK. She has over 10 years journalism experience, working as an editor and writer, specialising in digital media, content strategy and dog breeds. Prior to Marie Claire, she has held senior staff positions at ELLE UK, Grazia and Company magazine.
Holly is a frequent speaker, panelist and interviewer on a range of subjects including media trends, careers and entertainment. From working with Reuters to provide global red carpet coverage for events like the BAFTAs, to discussing fashion and beauty trends on network TV, she was also the host of the Marie Claire series 'Holly's First Dates', where she regularly interviewed a mix of inspiring woman and A-list celebrities (including Jack Black, Dakota Fanning and Renée Zellweger) - a series which garnered half a million views in its first two months. And was approved by The Rock.
Her love of office-based meetings means that the days of discovering the melting point of Cadbury's Flakes are long gone, but when she isn't dreaming of scheduling in meetings, she likes to think about social media, and how best to avoid it whilst still retaining the title of 'digital' editor. She also likes learning about emerging technology, Influencers and how to become a Financially Responsible Adult.
Contact Holly: holly.rains@futurenet.com