Forensics contaminated evidence in Amanda Knox case
Forensics involved in the Amanda Knox murder case made a series of errors during the original investigation, which could make the evidence inadmissible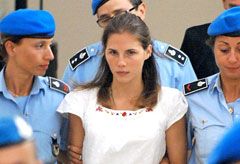 Forensics involved in the Amanda Knox murder case made a series of errors during the original investigation, which could make the evidence inadmissible
Police scientists working on the murder case of Meredith Kercher in Italy have been accused of contaminating evidence after a public gallery was shown footage of two officers dropping her bloodied bra.
Amanda Knox, 24, is currently serving 26 years for the sex murder of 21 year-old Meredith in November 2007, who was found semi-naked with her throat cut in the house the two girls shared in Italy.
Knox and her former boyfriend Raffaele Sollecito were convicted on evidence, which disclosed DNA from Meredith on a 12 inch kitchen knife, and that of Miss Knox on the handle. DNA from Sollecito was said to be on the clasp of Meredith's bra.
But in a damning deconstruction, experts say the errors made by the forensics in the original investigation means the evidence should be considered inadmissible.
Professor Stefano Conti explained that tests had shown negative blood on the knife and that the DNA, said to be Meredith's, was so low it could not be examined again with any conclusion.
The accused both listened intently as the experts put forward their case bringing fresh hope that they will be freed when the court presents its verdict in September.
'We have been saying this all along but it was just ignored,' says Knox's mother Edda Mellas. 'It really does beg the question how they were found guilty in the first place when you see the mistakes that were made during the original investigation.'
'This is a good day for us and hopefully the judge and jury will see this,' she says. The appeal hearing has been adjourned until Saturday.
Do you think Knox and Sollecito were wrongly convicted? Whatever your thoughts, however extreme, Marie Claire wants to hear from you below.
Celebrity news, beauty, fashion advice, and fascinating features, delivered straight to your inbox!