The race is on for Versace at H&M
Thousands of fashion fans queue outside H&M stores across the globe as people rush to get their hands on Versace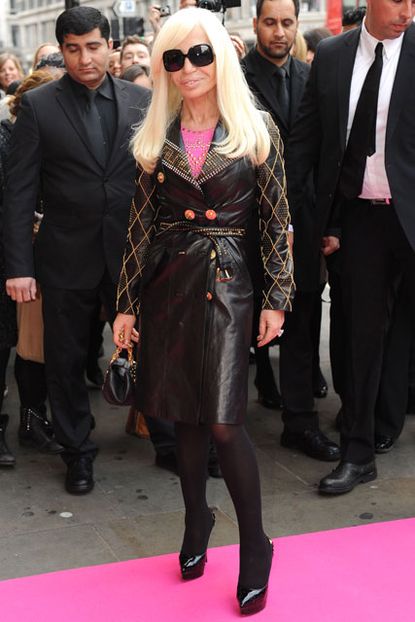 (Image credit: Rex)
Thousands of fashion fans queue outside H&M stores across the globe as people rush to get their hands on Versace
Thousands of fashion fans queued outside H&M stores across the country, even crashing the website, as they all clamoured to get their hands on a slice of Versace's hotly-anticipated collection.
SEE THE FULL VERSACE COLLECTION FOR H&M HERE
Italian fashion legend Donatella Versace was first past the queue at H&M's London Regent Street stor, to officially open the doors to her new collection for the high street fashion brand.
Style hunters waited outside throughout the night to be the first to get their hands on a peice of designer clothing at high street prices.
But online shoppers hoping to get in on the action would have been left disappointed, after the H&M website crashed due to the sheer volume of people trying log on.
The website is still currently blocked, greeting shoppers with the message, 'We are experiencing large numbers of visitors at the moment. Please try again later.'
With prices starting at just £19.99 for accessories, it's no wonder the launch of Donatella's psychedelic-print creations has caused a frenzy worldwide.
In Dubai shoppers started queuing at 5am, with the entire collection selling out in just 30 minutes.
The collection, which features typical Versace bold prints and vibrant colours, climbs to £179.99 for some of the more intricate items, but the catwalk equivalent would normally set you back over ten times that amount.
Versace for H&M is just the latest collaboration between the high street chain and designer brands, following similarly hyped collections with Karl Lagerfeld, Lanvin and Jimmy Choo.
It has been reported this week that Tom Ford will be the next in line to create a collection in 2012.
Have you managed to get your hands on a piece of the collection? Let us know in the comments box below...
Celebrity news, beauty, fashion advice, and fascinating features, delivered straight to your inbox!