Exclusive: Dame Vivienne Westwood On Dancing, Grandchildren And Making The Scottish Hall Of Fame
We did dessert with Vivienne Westwood at the Scottish Fashion Awards last night...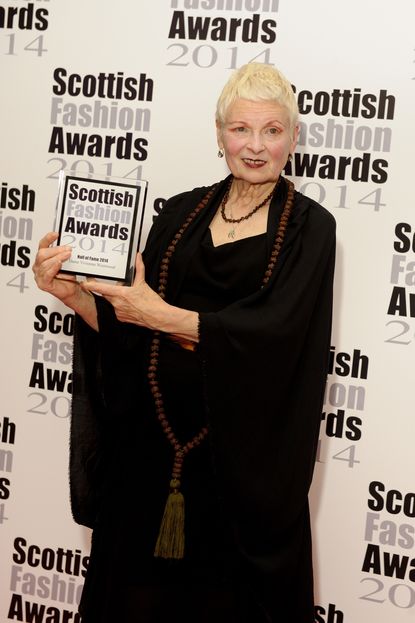 (Image credit: Rex)
We did dessert with Vivienne Westwood at the Scottish Fashion Awards last night...
What's your best ever dinner party story? Ours comes courtesy of last night's Scottish Fashion Awards where everyone's favourite flame-haired fashion maverick, Vivienne Westwood, was honoured for her tireless commitment to a tartan check.
Receiving the night's top honour and being inducted into the Scottish Hall Of Fame, Dame Vivienne thanked two men - her former love Malcolm McLaren and her husband of 20+ years, Andreas Kronthale, who, by the way, is an amazing dancer (more of that later, though).
Of course, no Westwood speech would be complete without a quick condemnation of fracking and a few very subtle views on the impending referendum - she's a yes voter, in case you were wondering.
When all the ceremonies were over, we did dessert with the woman of the night, putting the world to rights over a couple of shots and some raspberry coulis…
Dame Vivienne, congratulations, how does it feel to be in the Scottish Hall Of Fame? 'I didn't know I was - is that what this prize means? Why do I accept this award… I do it because I think I should. Sometimes I don't accept honorary this and that because I'm not going to be there, or I'm just not sure [about the cause]. But I do remember the special ones. I was teaching in Berlin for 13 years and I went for about four days every two months. When I left they gave me the keys to the city. So that was something quite special, I liked that. I do remember some of the things.'
What are some of your career highlights? 'Honestly, looking back, I'm very impressed by what we've done sometimes. While we're doing a collection, I love it, but as soon as you love it you're already working on the next one. It is good to sometimes stop and think wow that's just amazing. But what is a highlight? I don't know. Probably the clothes that I wear myself. I have great clothes - I just borrow them from the collection then put them back and get another thing the next season, it's brilliant.' Do you think fashion moves too fast? 'I think we have got far too much product and what I'm trying to do is insist upon quality rather than quantity. We absolutely have to like everything. That's very difficult because there's all this spin off from your central collection that follows it.' We saw your granddaughter, Cora Corre, make her modeling debut at your last runway show, how proud are you that the next generation of your family is making their mark in fashion? 'My granddaughter used to be an amazing reader. Now she's a teenager, she kind of stopped. She's quite clever about what's going on in the world, she's interested in that, but I just hope she'll start reading again.' Are you teaching her lots about your work? 'No it's a waste of time! She's not using me, she's too busy with her friends. We should see each other more often, I would like that, I saw her the other day and I told her exactly that. Meanwhile they're all about their exams and everything, they take that so seriously – they shouldn't. It's not about what you know when you're ticking boxes.'
What song would get you dancing tonight? 'Maybe Andreas will – because he's the best dancer in the world. He is amazing. I used to live for dancing. When I was a kid I lived for skipping. It's amazing, kids have lost that, it was wonderful. In and out those ropes - so brilliant. But now I can't be bothered, I'm too busy. I've given over, more or less. I do yoga, which is really important – you'll live much longer if you do yoga. It makes you strong and flexible your body is really working with you it's absolutely brilliant. I do a class and solo - I love it.'
Check out the latest collection of Vivienne Westwood Anglomania dresses here.
Celebrity news, beauty, fashion advice, and fascinating features, delivered straight to your inbox!