Absolutely Fabulous fashion, then and now
How much has what's fashionable really changed in 24 years? Turns out quite a lot…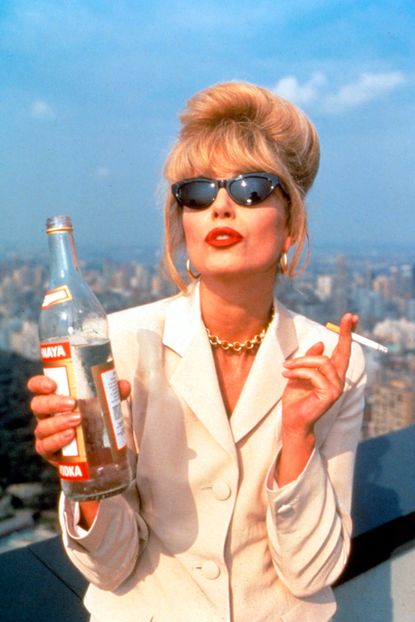 (Image credit: Rex Features)
How much has what's fashionable really changed in 24 years? Turns out quite a lot…
As Absolutely Fabulous The Movie hits cinemas today we're looking at what was hot in the fabulously fashionable world of Patsy and Edina, both then and now. How much has really changed in 24 years? Turns out quite a lot…
Then: Names, names, names, darling Now: A cool mix of designers, vintage and high street 'Lacroix, sweetie! It's alright, isn't it?' Well yes, Eddie, head-to-toe Lacroix was pretty fabulous back in the day. But you'll want to mix your now-vintage pieces with a high street hero buy or two. Throw in anything Gucci or something so now like a Vetements t-shirt and you'll be good to go. See what the Ab Fab The Movie costume designer had to say about the movie's wardrobe, here. Then: 'Sweetie, darling' Now: 'Hun, babes' All the sentiment is still there. But the best way to address your best friend/ colleague / accountant these days is to let them know that they're your bae.
Then: Chain smoking Now: E-cigarettes Swap those Marlboro Lights for a marshmallow scented vape. Smoking inside has been banned for almost a decade, and we could never have seen Patsy and Edina huddling in the rain for a cig anyway.
Then: Stoli and Bolli Now: Craft bears and Aperol Spritz The drinks of choice may have changed, but not all that much has changed about getting trollied.
Then: Black cabs Now: Uber Two decades on and public transport is still not the chicest. But instead of hailing a black cab from outside Harvey Nichs, we'd love to see Bubble attempting the Uber app.
Then: Long PR lunches Now: Social media marketing Eddie's job will have changed dramatically since the 90s. The latest fad she needs to get on board with? The internet and all of its PR potential.
Then: Kate Moss Now: Gigi Hadid and Kendall Jenner? But has our favourite supermodel, Ms Moss, really been replaced by the Insta girls of the moment? Not a chance, we say, as Kate the great is celebrating her reign with a pretty big part in the movie. We can't wait to watch it on the big screen.
Celebrity news, beauty, fashion advice, and fascinating features, delivered straight to your inbox!