X Factor host Dermot O'Leary reveals Cheryl's controversial no vote was rehearsed
In explosive claims, the show presenter told how Sunday's show was pre-planned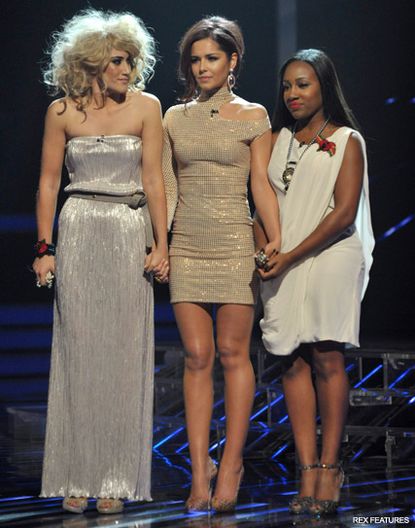 (Image credit: Rex Features)
In explosive claims, the show presenter told how Sunday's show was pre-planned
In the most explosive claims in the show's history, X Factor presenter Dermot O'Leary last night revealed how voting on Sunday's show was pre-planned, with producers rehearsing Cheryl Cole's no vote in the commercial break.
SEE ALL THE LATEST X FACTOR PICTURES HERE!
Millions of viewers complained when Cheryl refused to choose between two of her contestants – Treyc Cohen and Katie Waissel – who were both in the sing off over the weekend.
But at the time producers said the star had every right not to vote, and would accept a majority from the other judges.
Now it's been revealed that Sunday's dramatic play out was actually pre-planned, as bosses frantically assessed what Cheryl should do in the three-minute ad break.
'We talked about it in the break because you find out two or three minutes before what's going to happen,' Dermot told the Sun, revealing that was Cheryl was given the option to abstain from voting.
'We thought it might happen when we found out who was in the bottom two.
'My producer said, 'Look, if Cheryl decides to opt out we go to majority vote'.
'She did decide to opt out - and then she said, "Come back to me and we'll do deadlock".'
But the majority vote had already been decided on by bosses, who made it clear that Dermot should not refer back to Cheryl .
'There's no precedent to it so it's tricky,' Dermot said of the situation. 'It would have been a lot easier for me for Cheryl to be last.'
It was also revealed that axed Treyc Cohen gained nearly three times more public votes than Katie Waissel, so if it had have gone to deadlock, Treyc would still be in competition.
Now thousands of angry fans are calling for Cheryl to be sacked over the events, which have seen many complain to TV watchdog Ofcom.
But show bosses are still standing by their decision. 'Cheryl was well within her rights to do what she did,' one said yesterday. 'There are no official rules on X Factor.'
What are YOUR thoughts on Dermot's recent revelation? Should Cheryl be forced to leave the show? Or was the decision out of her hands? Let us know in the box below. SEE ALL THE LATEST X FACTOR PICTURES HERE!
Celebrity news, beauty, fashion advice, and fascinating features, delivered straight to your inbox!