Think You Can Criticise Ellie Goulding's Body And Get Away With It? Not A Chance...
Ellie Goulding kept her response to her Internet haters short and sweet.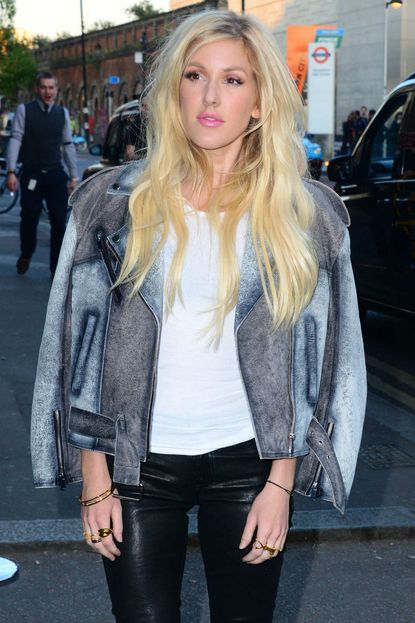 (Image credit: Rex)
Ellie Goulding kept her response to her Internet haters short and sweet.
Ellie Goulding has been working hard to keep her body toned, fit and healthy. So she's not going to just sit there quietly while Internet haters talk smack about her weight.
The 27-year-old singer has been posting loads of body-baring shots to Instagram lately. From the swimsuit pics to the post-workout selfies, Ellie's followers have a gotten a pretty clear look at her figure. And boy do they have some opinions.
http://instagram.com/p/noTpQ2TfUq/embed/
Most of the commenters on Ellie's pics are positive, saying they love her, she's perfect, etc. (That's what fans are for, right?) But she has gotten her share of critics and not-so-nice comments, such as 'you look way too skinny' and 'weird mid section.'
But it seems Ellie has had enough.
After posting a picture of herself in tiny running shorts, Ellie got a tweet from an observant follower. 'Apparently you're too fat, too thin and too athletic? I like it - don't you go changin'!' he wrote.
http://instagram.com/p/oO0ZrrTfZ_/embed/
Ellie retweeted him and added, 'Ha! I know!' And then she sent her own message out.
'Re recent Instagram post - quite baffling being described as underweight and overweight simultaneously... *scratches head*'
We like that Ellie didn't get angry or heated over the insults or call out any specific Internet trolls. Instead, she simply took the high road and acknowledged how silly they are.
Yet another reason why we love this lady...
Got a tablet? Take the new look Marie Claire wherever you go, download straight to your iPad & iPhone, Kindle (just search the store for 'marie claire magazine'), Nook or Google Nexus for only £2.99.
Celebrity news, beauty, fashion advice, and fascinating features, delivered straight to your inbox!
Ali Gray is an award-winning content director and digital strategist. Most recently she was the Director of Branded Content at Hearst, and helped to bridge the gap between the editorial and commercial worlds working across all Hearst brands, including ELLE, Cosmopolitan, Esquire and Harper's Bazaar. Prior to that she worked as an editor contributing to several brands such as The Telegraph, iVillage UK.