Rihanna's contoversial We Found Love video banned in France
Singer's We Found Love video banned in France for encouraging 'self-destructive behaviour'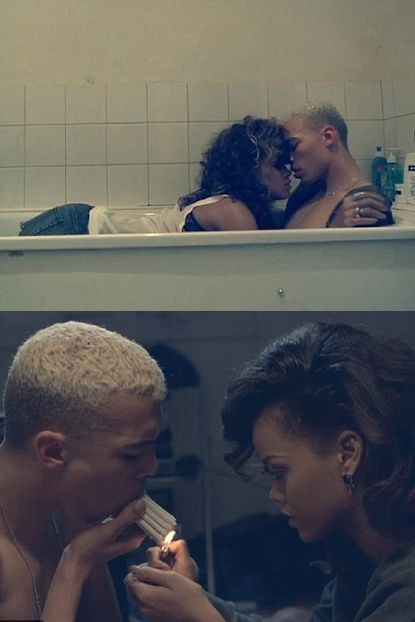 (Image credit: Def Jam)
French authorities have banned Rihanna's controversial We Found Love video, fearing it could encourage 'self-destructive behaviour.'
With her raunchy stage antics and provocative music, it's safe to say that Rihanna likes to court controversy. So the superstar should be happy to hear that her latest music video for We Found Love has upset upset more than just a certain Irish farmer...
PICS: SEE RIHANNA'S SIZZLING PHOTO SHOOT
The singer's latest video has caused a media furore for appearing to allude to her abusive relationship with ex-boyfriend Chris Brown and The Supreme Audiovisual Council of France have deemed it too inappropriate to be aired before 10pm.
The controversial video shows the destructive relationship between couple Rihanna and British Model Dudley O'Shaughnessy, and focuses on themes of sex, drugs, drinking, smoking, shoplifting and relationship abuse.
But the video's director, Melina Matsoukas, recently defended the strong imagery and violent notions, telling MTV News: 'We love, obviously, to do provocative imagery ... we always try to definitely push the limits.'
She added: 'I think because, in the end, it's not really at all about domestic violence. It's really just about it being toxic, and they're on this drug trip and that definitely plays a part, but I think it's also about being triumphant over those weaknesses, and she leaves him. It's not trying to glorify that type of relationship.
'The bad parts of it, that's what you don't want. In the end, her leaving, it represents her getting that out of her life. The drugs and the addiction and the toxic — that's what brings her downfall and brings a lot of harm.'
Matsoukas has directed a number of Rihanna's videos and was responsible for her bondage inspired S&M video which was banned from several countries after being deemed too sexually explicit.
Should Rihanna's We Found Love video
Celebrity news, beauty, fashion advice, and fascinating features, delivered straight to your inbox!