Rihanna ordered to cover up on racy video shoot
Brave farmer Alan Graham told the superstar her behaviour was 'inappropriate'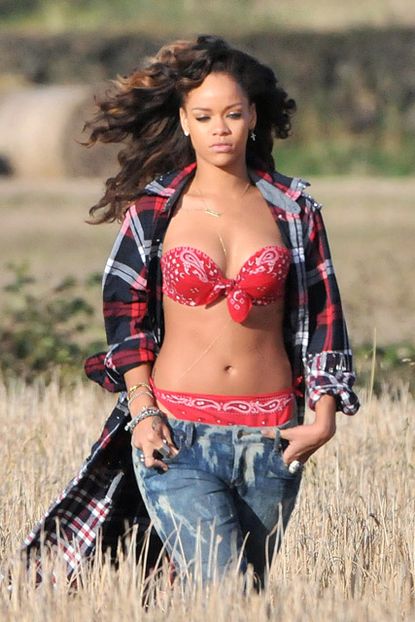 (Image credit: Rex Features)
Brave farmer Alan Graham told the superstar her behaviour was 'inappropriate'
It was business as usual for international superstar Rihanna, when she arrived on set in Bangor, Northern Ireland to shoot some sizzling scenes for her latest video We Found Love yesterday.
But it seems the starlet landed herself in hot water after frolicking through a field topless for a saucy shot – causing furious farmer Alan Graham to put a stop to proceedings.
SEE RIHANNA'S SIZZLING SHOOT PICS HERE
Oblivious to Rhi's superstar status, Graham – the owner of the land she and her crew were using – marched down and gave the 23-year-old a talking to over her 'inappropriate' behaviour.
'I had never heard of Rihanna until someone called me requesting the use of my land,' he said yesterday.
'Someone explained she was as big as it gets as far as pop stars were concerned. I am a bit illiterate about those issues.
'Most of the video took place in a field adjacent to a main road, which was a public place,' he explained of the event. 'It was when the film crew went to a further away field that I felt things were becoming inappropriate and I asked for the filming to stop.
'If someone wants to borrow my field and things become inappropriate, then I say, "Enough is enough. You are not entitled to do that".'
He added: 'I felt Rihanna was in more of a state of undress than a bikini top.'
But after having words with the songstress, Graham said they parted ways 'on good terms'.
'She understood where I was coming from. We shook hands and parted company on good terms,' he said. 'I wish no ill will against Rihanna and her friends. Perhaps they could acquaint themselves with a greater God.'
SEE RIHANNA'S SIZZLING SHOOT PICS HERE
Celebrity news, beauty, fashion advice, and fascinating features, delivered straight to your inbox!