Rachel Weisz opens up about her marriage to Daniel Craig
Rachel Weisz usually stays silent on the subject of her husband, Daniel Craig, but she's broken with tradition and revealed her relationship rules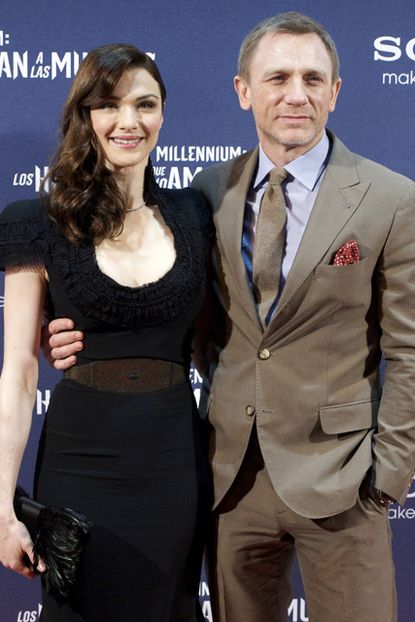 (Image credit: REX)
Rachel Weisz usually stays silent on the subject of her husband, Daniel Craig, but she's broken with tradition and revealed her relationship rules
Rachel Weisz usually prefers to concentrate on her career during interviews, and side steps question about her rather famous husband, Daniel Craig. But this time she's opened up on a few of their house rules - and top of the list is a ban on talking about James Bond.
WATCH RACHEL WEISZ DISCUSS HER LATEST ROLE
When asked about the dynamics of being married to another actor, Rachel told The Sun: 'I don't talk about my work, and nor does he. It's very private.
'There is nothing worse than two actors getting together and talking about acting. It's like the end – it's the worst.'
While work conversations may be off the agenda, being happy and in love are very much on. The duo tied the knot in June 2011 in New York and it appears the role of wife is one that suits the actress well.
She added: 'It's different being married than living with your partner. There is a contract.
'You don't necessarily have to think about respecting the rules, but it is just there. It's in your heart, it's not like a piece of paper.'
PICS! RACHEL WEISZ STUNS ON MARIE CLAIRE PHOTOSHOOT
Rachel's latest project is playing the Wicked Witch of the East in the hotly-anticipated, Oz: The Great And Powerful, although she admits playing an evil character hasn't allowed her to let go of some of her demons.
Rachel Weisz said: 'I'm as bad as the next person, but that's the thing about real life — we have to control ourselves.
'But I don't think I got rid of my demons or anything. This film is just not serious, it's fun. My demons are all still there.'
For someone with demons she looks and sounds pretty perfect to us!
What do you think, do you talk about work with your partner? Would you prefer not to? Have your say below.
Watch! Oz: The Great and Powerful trailer
Celebrity news, beauty, fashion advice, and fascinating features, delivered straight to your inbox!