Evan Rachel Wood: 'Westworld could be the greatest TV show of all time'
Evan Rachel Wood talks to Marie Claire about bisexuality, motherhood and her most exciting project to date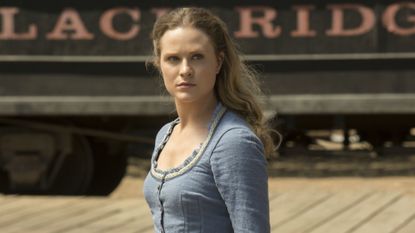 (Image credit: HBO)
The star of HBO's Westworld talked to Marie Claire about bisexuality, fame and playing a 'robot'
It's obviously not unusual in an interview for an actor to give you the hard sell about a new show or movie they're starring in. 'Amazing', 'inspiring' or 'a privilege' are normally batted out in swift, enthusiastic succession. But when I ask Evan Rachel Wood to tell me about Westworld, the new HBO drama she's about to star in, she doesn't beat about the bush. 'It could possibly be the greatest TV show of all time,' she says matter-of-factly.
If this sounds like hyperbole, bias, or a bit of both, Wood is not alone in her opinion. Few television shows enjoy a full three years of buzz before they premiere. But the heat of interest surrounding Westworld began back in 2013 when HBO first announced the project, and hasn't really let up since.
Set in a futuristic theme park populated with incredibly human-looking robots (allowing rich visitors to act out their darkest desires without consequence), the show − co-written by The Dark Knight and Interstellar's Jonathan Nolan and his wife Lisa Joy – has been pegged as the new Game Of Thrones. Wood (as robot Dolores Abernathy) joins an ensemble cast that includes Ed Harris, Thandie Newton and Anthony Hopkins. (When she shot her first scene with Hopkins, Wood nipped off set afterwards to have a cry.)
At just 29, Wood feels like an old soul − you have to regularly remind yourself that she hasn't yet broken 30. She's already achieved the sort of respectable 15-year Hollywood career actors twice her age would be jealous of (filled with smart, interesting choices, like her Golden Globe-nominated role in Thirteen and George Clooney's political yarn The Ides of March).
She's also weathered a fair amount of unwanted publicity over her love life along the way, too, including a four-year relationship with Marilyn Manson, which began when she was 19 and he was 36 and − more recently − her amicable divorce from British actor Jamie Bell (the two have a son together).
She has also used her Twitter account to open up about her struggles with bipolar disorder and to discuss her bisexuality. 'People told me not to do that,' she says, but the reaction to her openness was, in the end, overwhelmingly positive. She's just moved from LA to the East Coast countryside for a little space ('I need a porch and a rocking chair and a yard!' she jokes) and if Westworld is as big as it promises to be, she might be grateful for the distance…
There's a lot of attention surrounding Westworld. What was your first reaction to the show?
'Jon [Nolan] and Lisa [Joy] sat down with me and explained in a nutshell the premise of it and I was blown away. Basically, anything was possible; they would never run out of ideas, but I don't think I truly realised what show I was on, or just how brilliant it was, until around episode three or four. I almost had a panic attack because I realised then what was on my shoulders.'
Westworld's co-writer, Joy, said featuring sexual violence was necessary in a theme park where humans can act completely without consequence. Do you agree?
'Absolutely. I think that as the show progresses, the context in which we are using it and why we are using it begins to make more sense. The same goes for gun violence. The show opens up so much of that [dark] side of humanity; it's in-depth.'
It's novel to see equal levels of nudity between men and women...
'That's one of the things I like about the show; it's an even playing field. Even with the bandits, men and women can be very much equal.'
You've said that earlier in your career you sometimes felt like you were being treated 'like a piece of meat'. Do you think things have changed?
'I don't know if they have. The illusion is that if you go with the flow and let yourself be made into things people want you to be made into you'll succeed, but in my experience, the opposite [is true].'
You've been open on Twitter about your bisexuality and struggle with depression. Have you had a good response?
'Absolutely. Again it's just another scenario where people tell you, 'Don't do it, people won't understand, you're going to get a backlash,' but it's important – even if it helps just one person. I know how it feels to be in that position and to feel alone. I don't want anybody to feel that, and if sharing my story helps in any way then I'm going to do it.'
Has becoming a mother made you guard your privacy more?
'I recently moved out of LA and into the country because I don't want to be in the thick of it. I want to give my son a distance and a sense of normality, because he has two parents that are working actors and he's going to be in it all the time, so I was like, "I think it's time to leave LA."'
We see you've also just formed a band, Rebel And A Basketcase…
'It's like a dream come true. We've got an album coming out in October and we're touring right now. I'm used to playing characters that are other people's visions, so [performing in the band] was the first time I felt I could really step out and reclaim parts of myself. It was just a really surreal experience.'
The US elections are in a month and you've tweeted in support of Hillary. Have you met her?
'You know what, I met her when I was a little girl the first time [Bill] Clinton was running. I went to a rally with my family. I was four, I got dragged there and I didn't know what was going on. But she walked right over to me and shook my hand. My mum always tells the story, "She walked right off that bus and went to you!"'
Westworld starts tonight on Sky Atlantic
Celebrity news, beauty, fashion advice, and fascinating features, delivered straight to your inbox!