Michael Jackson 'was on verge of breakdown'
The King of Pop 'showed signs of cracking up' claims psychiatrist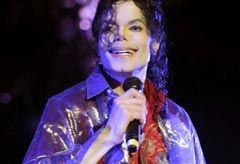 (Image credit: image.net)
The King of Pop 'showed signs of cracking up' claims psychiatrist
A psychiatrist has claimed that Michael Jackson was on the verge of a nervous breakdown at the prospect of a 50-night run of shows at the O2 Arena.
SEE OUR MICHAEL JACKSON RETROSPECTIVE HERE
As news broke yesterday that Jacko's mother, Katherine Jackson, has been awarded permanent custody of his three children – as stipulated in the singer's will – a doctor has revealed the King of Pop showed 'signs of cracking up' only 13 days before he died.
The unnamed psychiatrist saw Jackson twice before he passed away and described the singer's behaviour as one minute excited and 'almost manic', before spiralling into silence and 'staring into space'.
Another source spoke out last night, reports The Sun, claiming the legendary performer was 'clearly not mentally or physically equipped to cope' with the marathon tour dates.
'Michael was always adamant the show must go on - to the point where he was obsessed with the idea he would be 'killed' if he couldn't go on stage.
'He had been backed into a corner and was falling apart under the strain.'
In the initial psychiatrist meeting Jackson reportedly opened up about his unsettling childhood, his addiction to painkillers and his belief that contracting skin cancer was 'God's punishment'.
The second meeting saw Jacko discuss with the psychiatrist his fears of performing live for such an extensive run in London.
'Michael had been candid at their first meeting, but showed clear signs of cracking up when he saw him again,' the source told The Sun.
'They discussed if it would be possible to cancel or postpone the gigs.'
Celebrity news, beauty, fashion advice, and fascinating features, delivered straight to your inbox!