Natalie Dormer knew about her explosive exit from Game of Thrones for a year
Well, that's a devastating way to get your annual leave approved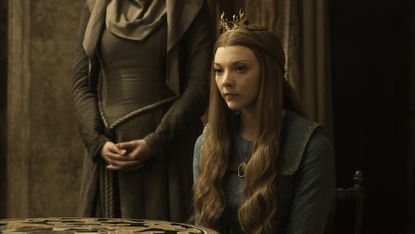 (Image credit: ©2016 Home Box Office, Inc. All)
Well, that's a devastating way to get your annual leave approved
Game of Thrones just isn't the same without Margaery Tyrell's sly smirk and machinations and her explosive death at the end of season 6 shocked everybody. (Though good riddance to those darn Sparrows.) It turns out that actress Natalie Dormer actually knew of her character's ill fate beforehand and had to sit on the secret for an entire year.
If you can cast your mind back to season 6, Margaery died in the Sept of Baelor when Cersei Lannister destroyed it with wildfire to cross a few enemies off her list. When Margaery's husband, teenage King Tommen, heard about her death he jumped out of a window and his mother Cersei became Queen.
Her death was a pivotal moment for the series and it turns out the showrunners told Natalie a year in advance that she'd be killed off. Natalie, whose career in film is gradually taking off, approached the showrunners about taking days off for other projects and they told her that her schedule would be opening up in the most brutal way.
She revealed on The Jonathan Ross Show, 'I sort of got ahead of the game because I was badgering the creatives a year before to release me for a couple of dates, you know how shooting schedules can be overlapping.'
'I was trying to get a movie made, I was trying to get my movie that I made with my other half. At the time, they wouldn't release me from Game of Thrones.
'So Dan and David, the creatives of the show said, 'Sorry Nat, we're not going to release you. You're going to have to shoot next year, but don't worry darling - we're killing you next year.'
To be fair, it's better than never being told at all - which is what happened to poor Stephen Dillane who played Stannis Baratheon. Apparently the showrunners forgot to tell him Stannis would be kicking the bucket and Stephen found out by reading his script, which isn't great either. Apparently most actors playing major roles find out via phone call, so maybe David Benioff and D.B. Weiss just didn't have his digits.
Although the showrunners dropped a massive bomb on Natalie (quite literally), she said it actually changed her perspective of her final season of shooting. She said, '[The showrunners weren't] that harsh, I'm paraphrasing, but they thought they were giving me good news. They were, it was bittersweet. I had the unique position over a lot of cast members, as in I knew when my time was coming.'
Celebrity news, beauty, fashion advice, and fascinating features, delivered straight to your inbox!
Megan is a freelance journalist who covers entertainment and all things lifestyle, with a particular passion for fashion, beauty, travel and Keanu Reeves stories. She has previously worked on staff for titles including Marie Claire UK, CNN Style and The Evening Standard and has written for titles such as Bustle UK, Wallpaper*, Forbes and Hong Kong Tatler. She splits her time between London and her hometown Hong Kong, where she currently lives with the love of her life - an elderly dog named Poppy - and her husband.