Katie Holmes: 'Suri will become an actress'
The actress has spilled the beans on her wayward four-year-old, how she thinks she'll hit Hollywood when she's older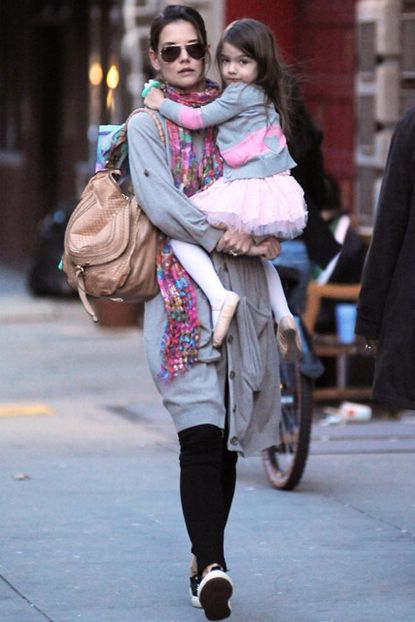 (Image credit: Rex Features)
The actress has spilled the beans on her wayward four-year-old, how she thinks she'll hit Hollywood when she's older
Actress Katie Holmes has spilled the beans on daughter Suri in an a new interview, predicting the determined four-year-old will grow up to become a Hollywood actress when she's older.
The Jack and Jill star also told how little Miss Cruise chooses all her own clothes – but hates wearing a coat! – and even helps her put her own outfits together.
TOM CRUISE & KATIE HOLMES: ROMANCE IN PICS
Speaking to American InStyle magazine, Katie explained her multi-talented daughter is 'an amazing athlete, singer, and dancer,' but admitted: 'I think she'll probably be an actress.'
Hollywood had better watch out!
Katie also told how Suri - who reportedly has a wardrobe worth millions – has an eye for fashion, and loves scouring her brimming rails for something to wear.
'I do not dress her. She dresses herself!' she said. 'Obviously, I buy her clothes, but she is the one who puts her outfits together. In fact, she helps me. If she likes something of mine, I know it's good.'
But the actress – who has recently come under fire when her daughter was pictured out in Winter without a coat – admitted the strong-willed four-year-old can sometimes be a handful.
'Recently, Suri and I were taking a walk and a fight got started because it was cold outside and she didn't want to wear her coat,' Katie told the magazine. 'My philosophy is, well, fine, because after a block of walking you're going to ask me for your coat.
'So the pictures of her [without a coat in cold weather] are sort of embarrassing, but I said, "Suri, I'll take the hit. Just put it on when you get cold".'
Despite gushing about her love of motherhood, Katie remained tight-lipped on any plans to expand her brood in the future.
'I don't feel pressure to [have more children],' she said.
'We already have a very big family; a full household with cousins who are over a lot,' she says. 'My biggest thing is making sure she's fully taken care of and doing well.'
TOM CRUISE & KATIE HOLMES: ROMANCE IN PICS
Celebrity news, beauty, fashion advice, and fascinating features, delivered straight to your inbox!