Jennifer Aniston talking about women (and, er, the mile high club) on Ellen is everything
She is us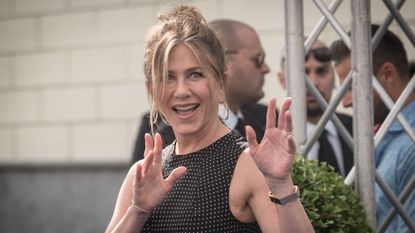 (Image credit: Michele Amoruso/REX/Shutterstock)
She is us
We love the Ellen DeGeneres show because no one else gets as candid a response as the American presenter, and her latest episode was no different. Jennifer Aniston, 47, talked about everything from those pregnancy rumours to what being married to her husband Justin Theroux, 45, is like.
She recalled an adorable story from Thanksgiving involving Justin: 'Everyone came to the house and no one really understood that Justin was not going to be there and you just saw everybody's face just start to fall. The whole room got really depressed. I was like, "Guys, I'm here. I understand Justin's not here, but it's going to be okay!' Then salads came out and everyone was just very sombre and next thing you know, turkey walks in and there was another turkey holding that turkey.'
The actress also went on to talk about why she decided to write an article on why she's 'fed up with BS tabloids'. 'Another wonderful photograph, which I've had to sort of live with for the last 10, 15 years is a picture of me with a bump and circle around my stomach with an arrow pointing to it, just this sort of disgustingly objectifying kind of way. And I was just fed up with it. We as women do a lot of incredible things in this world other than just procreating. And not that that is not … but we just get boxed in. They love the narrative, they love the story, the love the 'she's jealous of this person,' and 'this person's depressed,' and 'oh my gosh, never going to have a child.'
'Whatever the horrible little headline is, we've just got to break out of that and go 'whoa, whoa.' And women, I have to say, are many of the authors of these horrible articles that are written in these BS tabloids. So, we have to stop listening to them and we have to stop buying them because we have to support each other, especially at this time, to love each other, to support, and to be proud of women, of whatever your choice is in life. It's up to us what makes us happy and fulfilled.'
And after her powerful message about how under pressure women are in our culture, the pair went on to engage in a hilarious game of 'Never Have I Ever.'..
At one point, viewers were led to believe that the pair have both, at one point, joined the mile high club. 'Never have I ever joined the mile high club...' Ellen stated as they both raised their paddles to read 'I have.' 'Never have I ever joined the mile high club in the cockpit,' Ellen continued as Jennifer Aniston kept her paddle up, saying 'Oh God...!'
However, the actress has since said that the whole thing was actually a joke.
Speaking to E! News at the LA premiere of Office Christmas Party, she said: 'You know that was all goof right? I felt right after all that happened, I didn't know what she was going to ask me. I'm blowing your whole cover, Ellen.
'But she literally just said, "Just say yes no matter what. You have to say yes," and now all this stuff is coming out.'
We guess this just goes to show the power of Ellen DeGeneres.
Celebrity news, beauty, fashion advice, and fascinating features, delivered straight to your inbox!