Geri Halliwell recreates Union Jack dress for Next
Geri Halliwell has designed a new Union Jack range for the high street chain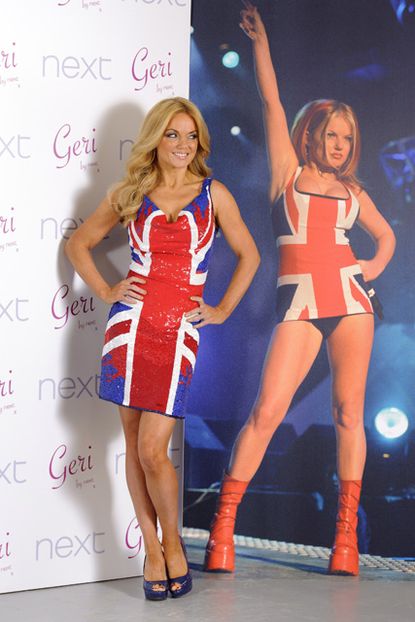 (Image credit: Rex)
Geri Halliwell has designed a new Union Jack range for the high street chain
We all remember the Union Jack dress Geri Halliwell wore with the Spice Girls - who could forget it? Well, now Geri has bought it back, with a few extra inches, for a new collection at high street store Next.
The former Ginger Spice strutted out on stage to perform with the Spice Girls at the BRIT Awards in 1997, in a dress which was originally fashioned from a tea towel and later went on to sell for over £40,000 at a charity auction.
So, it's no wonder Geri has decided to put her designer skills to use once again to recreate her own, slightly more demure, version of that Union Jack dress just in time for the Diamond Jubilee.
Ms Halliwell, already the face of Next, has designed her own swimwear, lingerie and dress collections for the high street store, but now, what with it being the Olympic year, the ex-Spice Girl has decided to focus on a British theme.
The small collection will include a lingerie set, a bikini, a maxi and the main dress - set to retail for £199 when it hits the shelves in March.
The singer is donating royalties from the new sequined mini dress to the Youth Sport trust – which endeavours to help young people achieve their full potential in life and in sport.
With all this talk of sport and Spice Girls, David Beckham - who is an official ambassador for the London 2012 Games - said he would 'love' his wife Victoria to reform with bandmates Mel B, Mel C, Emma Bunton and Geri as part of the Olympic celebrations.
The football star said: 'She's a busy girl. The Olympics mean a lot to me so I'd love her to be there. But I'm not sure I can exactly demand her to do it. I'll try. We'll have to see.'
However, David could be disappointed as Spice Girl Mel B hinted the band would instead be part of Queen Elizabeth's Diamond Jubilee celebrations.
When asked if the girls would reform for the Olympics, Mel B said: 'I think the Queen's Jubilee concert is the event I'd be looking at more closely for that to happen.
'I am going to be in such strife for saying that. It's all so totally top-secret still.'
What do you think to all this Spice Girl hype? Do you want them to reform? And would YOU wear something union jack from Geri's collection to celebrate? Tell us what you think in the comments box below...
Celebrity news, beauty, fashion advice, and fascinating features, delivered straight to your inbox!