George Clooney confesses to being lonely and cheated on
The Oscar-winning actor has revealed intimate agonies in a soul-searching interview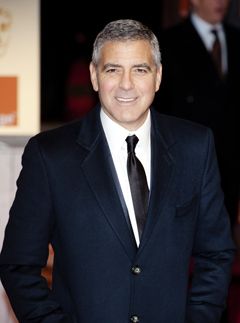 (Image credit: REX)
The Oscar-winning actor has revealed intimate agonies in a soul-searching interview
Handsome Hollywood A-lister George Clooney seems to have it all: A succession of beautiful women on his arm, a cast of famous friends and an enviable movie career.
But in a new frank interview the actor has revealed that he suffers from episodes of loneliness, has trouble sleeping and lives with constant chronic back pain.
Speaking candidly to The Hollywood Reporter, George explained: 'Anyone would be lying if they said they didn't get lonely at times.
'The loneliest you will get is in the most public of arenas.
'You will go to a place and end up in the smallest compartment possible, because it's a distraction to everybody, and you end up not getting to enjoy it like everyone else.'
He added: 'I have been infinitely more alone in a bad relationship. There's nothing more isolating. I have been in places in my life where that has existed.'
The Oscar-winning actor, who is currently dating former wrestler Stacy Keibler, said he had in the past been cheated on, dumped and 'left for someone, all those things.'
Clooney, 50, also discussed drinking and drug-taking in the frank interview, saying: 'I drink at times too much. I do enjoy drinking, and there have been times in my life when it's crossed the line from being fun to having to drink late at night for absolutely no reason.
'So what I do is, I stop. I haven't had a drink since New Year's Eve.'
He admitted to dabbling with cocaine as a young actor but said: 'Blow is absolutely a non-starter.
'I didn't have an issue with it. I'm not a big druggie, not at all.'
Far from his jet-setting image, George also says that he is in bed by 10pm most evenings but is plagued by insomnia: 'Turning off the television causes me to think, and once I start that vision roaring, I have a very tough time getting to sleep.
'Without question I wake up every night five times.'
The actor also shed light on his friendship with Brad Pitt, calling him 'one of the great guys', but added: 'It's different from what people think, meaning we don't spend a lot of time together. He has been to my home in Como; we motorcycle together. But until recently, I hadn't seen Brad in a year.'
He also addressed the controversy Brad famously caused when he said he would marry Angelina Jolie, when George could marry a man. Clooney said: 'A couple of years ago, [Brad Pitt] really nailed me. He did one of those shows and they asked him when he was going to marry Angie [Angelina Jolie], and he said, 'I'll marry when George can legally marry [a man].'
He adds: 'He really got me badly, something I have had to deal with the past few years. But I couldn't give a s***.'
George also confessed to contemplating suicide after suffering a leak in his spinal cord: 'I thought I was going to die,' he says of the consequences of a fall when he was filming 'Syriana' in 2005.
'I thought I'd had a stroke. It was like a train horn going off in your head and you can't see and you can't stand,' he says.
After a nine-hour surgery, he said he was put on a regiment of prescription drugs.
'Then you start on a series of painkillers,' he says. 'They'll hand you a giant tub of Vicodin, which is not a good drug for me; I had a lot of stomach pain and I really didn't like the high it gave me.
'Then there were a lot of other drugs. I was on morphine for a while, which created this horrible anxiety where I really thought I was in trouble.'
He said he still suffers daily pain today, 'As the day goes on, it gets worse.'
If you need a hug to make it all better, you know where we are, George!
Celebrity news, beauty, fashion advice, and fascinating features, delivered straight to your inbox!