EXCLUSIVE! Erin O' Connor for World AIDS Day
The star's written a moving blog about her trip to Ghana, as ambassador of Aids charity (RED)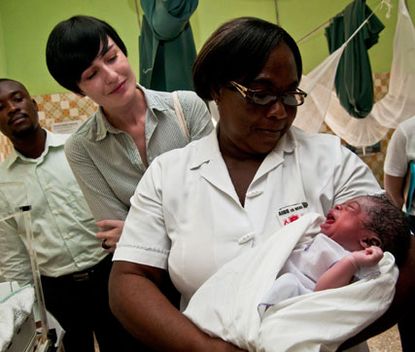 (Image credit: Rex Features)
The star's written a moving blog about her trip to Ghana, as ambassador of Aids charity (RED)
In 2009 I went out to Ghana as a newly appointed ambassador for (RED).
I felt a great sense of anticipation as I met the rest of the team and we headed for the Korle Bu Hospital – our journey there was 'very spirited' on account of the enormous, unapologetic pot-holes. Although I had wanted to help (RED) as it was a cause I felt very strongly about, being keen to help convey its message to the public, I probably wasn't quite ready for the experience of Ghana. I had read statistics on HIV, the transmission of HIV, the death rates for HIV carriers; the trip to Ghana gave me an understanding of what the statistics really meant and gave me a sense of what could be done.
We arrived in an immediate swell of chaos and shuffled with trepidation towards the head of the queue, a sea of eyes curiously looking back at us. Families travel together in groups either to be tested for the first time or for a face to face check up with Dr Ernest – an extremely modest young man, who is an omnipresent fixture within these four (modest) hospital walls – his motivation was simple: seeing a small child arrive on the brink of death filled him with great sadness. However, watching the incredible recovery of the same child when treated with Antiretroviral medication, enabling them to get on with the rest of their lives, filled him with great happiness. Without warning that's when my first tears escaped, betraying me as I realized they shone from my face and reflected the immense feeling of sheer relief combined with utter joy.
It suddenly hit me with forceful impact what I didn't, but perhaps should have known – that HIV does not have to be a death sentence. It is a treatable virus that allows you to lead a full life with the right care supervision, educational support, and most importantly, regular access to medication!
I was profoundly touched by some of the sites and stories I saw and heard in Ghana, but one memory in particular had the greatest impact on me. It was my experience in the new-born baby ward that was the most humbling and emotional.
Born to mothers with HIV, the babies were unknowing of their fate and they ALL possessed a pure innocence. I held two babies and they were both beautiful, but I was informed that whilst one had been lucky, the other had unfortunately contracted HIV. It was heart wrenching. I sat in silence with the mothers of the babies, mothers who had been made to feel ashamed in a way that I had not considered.
The raw emotion many of the women still carried was evident whenever we met and spoke. Many had been completely ostracized from society. Many had been beaten by their fathers. Many had been banished from villages. They were poor, without food and without enough money to survive.
But there was hope in the form of The St Martin's Hospital HIV Clinic, about an hour and a half drive north of Accra.
Along with providing a place for the women to meet each other and feel a sense of welcoming community, treatments are available; treatments that eliminate mother-to-child transmission in up to 99% of cases.
With an estimated 1,200 children infected with HIV each day - over 1,000 of them in sub-Saharan Africa alone- the importance of the treatments is obvious.
Today only 45% of pregnant HIV positive women have access to the medication, but with (RED)'s new campaign 'An AIDS Free Generation is Due 2015', this could change if everyone gets behind it. And if all these women get access to the treatment, the number of babies born with HIV in only five years time could, incredibly, be almost zero.
For me, it's not just surviving, it's thriving - we can ALL help bring the necessary change, so let's help the next generation lead the way!
SIENNA MILLER SUPPORTS WORLD AIDS DAY
Celebrity news, beauty, fashion advice, and fascinating features, delivered straight to your inbox!