Emilia Clarke just got real about surviving two brain aneurysms
"I am in the really, really small minority of people that can survive that."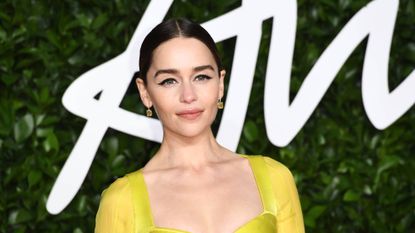 "I am in the really, really small minority of people that can survive that."
British actress Emilia Clarke has previously shared her experience of suffering two brain aneurysms.
In an essay for the New Yorker in 2019, Emilia described how fortunate she was to have survived a subarachnoid haemorrhage (a bleed in the area surrounding the brain).
The actress first suffered from a brain aneurysm in 2011 after she had finished filming season one of Game of Thrones, but was then struck down again in 2013 with another.
Now, the Game of Thrones star has shared further details in a candid conversation with the BBC's Sophie Raworth. Emilia said:
The Bafta winning actress was aged just 22 when she collapsed in a gym toilets and was, as she describes, "violently, voluminously ill." The pain was excruciating, she says, adding that at some level she knew what was happening: "my brain was damaged."
Asked by Raworth about the impact the medical emergencies had on her physically, Emilia that a scan of her brain had shown that "there's quite a bit missing." Laughing, the 35-year-old joked "it just kind of shows how little of our brains we actually use."
Raworth then asked Emilia about how she lives with that knowledge, to which the Emmy-nominated actress replied:
Struck by Emilia's courage and pragmatism, Raworth replied that it was "extraordinary."
The actress who famously played Daenerys Targaryen in the Game of Thrones series, is currently starring in The Seagull at the Harold Pinter Theatre.
Following her experience of surviving life threatening strokes, Emilia launched the SameYou charity in 2019. It aims to support young people with brain injuries and is something the actress is passionate about, having said she wants to bring attention to the 'invisible illness'.
Celebrity news, beauty, fashion advice, and fascinating features, delivered straight to your inbox!
Amy Sedghi is a freelance journalist, specialising in health and fitness, travel, beauty, sustainability and cycling.
Having started her career in The Guardian newsroom working with an award-winning team, Amy's proud to have reported on a variety of topics, speaking to a range of voices and travelling far and wide to do so. From interviews on ski lifts to writing up breaking stories outside courtrooms, Amy is used to reporting from a range of locations (she's even been known to type up a story in a tent).
She also loves being active, spending time outdoors and travelling - with some of her favourite features she's worked on combining all three. Cycling and eating her way round the Isle of Man, learning to sail on the Côte d'Azur and traversing the Caminito del Rey path in Spain are just some of her highlights.
Covering a diverse range of subjects appeals to Amy. One minute she may be writing about her online styling session with Katie Holmes' stylist and the next she's transporting readers to the basketball courts of Haringey where she joined a group trying to lower knife crime in the capital.
While at university, Amy was awarded The Media Society bursary. Following her stint at the Guardian, Amy worked at Google and as well as writing for Marie Claire, she regularly contributes interviews, features and articles to National Geographic Traveller, The Guardian, The Independent, The Telegraph, Stylist, Refinery29, Glorious Sport, Cycling Weekly and Rouleur.
When she's not writing, Amy can be found trying to get through her towering stack of books-to-read, cycling down at Herne Hill Velodrome or looking for the next place to eat and drink with friends.