Downton Abbey to be made into a film?
Downton's writer Julian Fellowes has been asked to make the hit TV series into a movie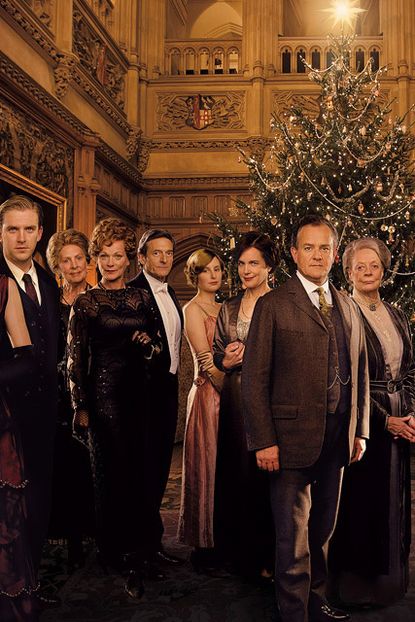 (Image credit: ITV Pictures)
Downton's writer Julian Fellowes has been asked to make the hit TV series into a movie
After the success of the hit TV series at the Golden Globes, creator and writer Julian Fellowes was 'virtually mobbed' by Hollywood executives begging him to make Downton Abbey into a movie.
GOLDEN GLOBES 2012: ALL THE PICS
It's been a Sunday night ritual in most British homes over the last two years and now our favourite TV costume drama could be moving to the big screen, after the show's success at the Golden Globes sparked talks with LA movie makers to make our Brit classic into a film.
Downton's creator Julian Fellowes was seen 'networking' with producers after winning the award for best mini-series.
At the Golden Globes after-party the 62-year-old was apparently 'virtually mobbed' by actors and movie bosses wanting to know whether there was a movie adaptation on the way.
A source at the party told The Sun newspaper: 'Julian was chatting with various film directors and movie executives about the show and the possibility it would make a fantastic feature film.
'Reese Witherspoon and Meryl Streep were also seen chatting and congratulating him.
'He was very much flying the flag for British TV. They were all chatting about how much of a success the film version would be.'
The source continued: 'Julian was explaining he would have to give the idea a lot of thought and that lots of people have already asked him about film rights.'
Insiders told the paper that a film would likely deal with a single event that engulfs the Abbey and the Crawley family so as not to detract from the ongoing TV storyline.
Downton has become a hit in the US after it started airing on the PBS channel, which also screens British programmes such as Sherlock.
Actress Elizabeth McGovern, who just missed out on a Golden Globe for best actress for her role of the Countess of Grantham, said she thought the show appealed to Americans because the characters' lifestyle is so different.
'I think they love the drama and the intrigue, and they also love the solidity of the life - that you're free of mobile phones and Twitter,' she said.
But fear not, Downton fans - a potential movie won't postpone the third series, which is in production already, set in 1920 and 1921, covering 18 months in the lives of the Crawley family and their servants.
So, would you like to see Downton Abbey: The Movie? We would! Tell us what you think in the comments box below...
PICS: THE DOWNTON GIRLS GET FESTIVE
SEE ALL THE WINNERS FROM THE GOLDEN GLOBES 2012
Celebrity news, beauty, fashion advice, and fascinating features, delivered straight to your inbox!