Bookings for Airbnbs in Ukraine soar as people rush to help locals
Millions of dollars have been raised for its hosts.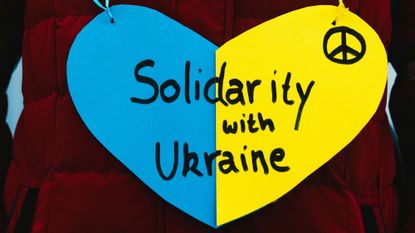 Millions of dollars have been raised for its hosts.
Airbnb bookings in Ukraine have soared, as people try desperately to get financial help directly to locals affected by the conflict.
In an idea that has been shared widely on social media, scores of people have been booking stays with Ukrainian Airbnb hosts and sending supportive messages to them. More than 61,000 nights were booked by Airbnb users in a 48 hour timeframe following the idea being circulated online.
CEO and co-founder of the home rental platform, Brian Chesky confirmed last Friday that the bookings had resulted in raising $1.9 million for the hosts. Thanking all those that had got behind the idea, he praised the move, declaring it as "such a cool idea from our community".
Following the idea for booking rentals in Ukraine via Airbnb, the company quickly confirmed last week that they would waive their usual fees for guests and hosts. There are currently more than 300 listings across Ukraine on the platform.
One of those posting about the idea is @DimaggioEth on Twitter. They tweeted to say that they had booked an Airbnb in Kyiv for one week "as a means of getting money directly into the hands of Kiev residents". They added that it was an affordable way to make a small difference and begged others to share the idea.
The tweet has had almost 3,000 likes and 1.3k retweets, with numerous responses to the post sharing that they had been inspired to book a stay too in a bid to help.
While the community-grown idea has been mostly well received, some have raised concerns that some bookings could benefit Airbnb 'businesses' rather than local hosts. Co-founder of the rental platform, Joe Gebbia has shared his advice on how best to go about booking a stay to reach those most in need.
He advises user to filter by 'private rooms' or 'experiences' and to only book hosts with multiple reviews.
On Monday, Airbnb also set up a dedicated section, Help Ukraine, to help people abroad host Ukrainian refugees in their spare rooms. So far more than 1.2 million users have visited the online hub since it was launched and more than 28,000 hosts have signed up to offer their homes to refugees around the world.
The platform, which has seen support from Ashton Kutcher and Mila Kunis for their efforts supporting those fleeing Ukraine, has also suspended operations in Russia and Belarus.
Celebrity news, beauty, fashion advice, and fascinating features, delivered straight to your inbox!
Amy Sedghi is a freelance journalist, specialising in health and fitness, travel, beauty, sustainability and cycling.
Having started her career in The Guardian newsroom working with an award-winning team, Amy's proud to have reported on a variety of topics, speaking to a range of voices and travelling far and wide to do so. From interviews on ski lifts to writing up breaking stories outside courtrooms, Amy is used to reporting from a range of locations (she's even been known to type up a story in a tent).
She also loves being active, spending time outdoors and travelling - with some of her favourite features she's worked on combining all three. Cycling and eating her way round the Isle of Man, learning to sail on the Côte d'Azur and traversing the Caminito del Rey path in Spain are just some of her highlights.
Covering a diverse range of subjects appeals to Amy. One minute she may be writing about her online styling session with Katie Holmes' stylist and the next she's transporting readers to the basketball courts of Haringey where she joined a group trying to lower knife crime in the capital.
While at university, Amy was awarded The Media Society bursary. Following her stint at the Guardian, Amy worked at Google and as well as writing for Marie Claire, she regularly contributes interviews, features and articles to National Geographic Traveller, The Guardian, The Independent, The Telegraph, Stylist, Refinery29, Glorious Sport, Cycling Weekly and Rouleur.
When she's not writing, Amy can be found trying to get through her towering stack of books-to-read, cycling down at Herne Hill Velodrome or looking for the next place to eat and drink with friends.