How to make your pores appear smaller
Try these 7 simple tips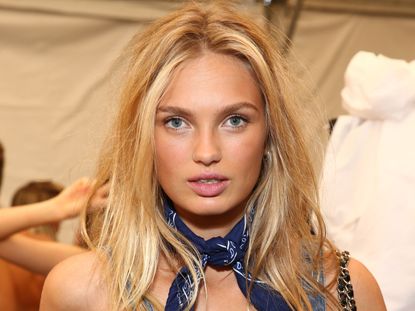 (Image credit: WWD/REX/Shutterstock)
Try these 7 simple tips
Racking your brain about how to make your pores appear smaller? We've all been there.
You're feeling good in your fluffy bathrobe, swanning around the hotel room you've booked for the weekend and BAM! You catch sight of the magnifying mirror over your right shoulder. What normally looks like skin that's as smooth as silk is now resembling a rich tea cracker. Holes EVERYWHERE!
Pores can be a right pain in the arse. Contrary to popular belief, they don't actually open or close, so there's no magical way of making them disappear and here's an even harder truth to swallow: You'll never be able to actually change the shape of them. What you've been given is genetically determined, so no matter what potion you wipe them with, they'll always stay the same.
What you can do, is make them appear smaller and stimulate healthy collagen production to support the structure of your pores to make them seem tighter. All you have to do is follow these easy steps…
1. Keep them clear.
Black heads are caused by the sebum in your pores drying. Deeply cleanse your skin with a pH-balanced cleanser and an oscillating facial brush to get rid of any dirt.
2. Exfoliate.
A combination of facial scrubs and chemical exfoliants will help break down and remove dead skin cells, so your pore openings don't seem as large.
3. Try caffeine.
Applied topically, caffeine can tighten your pores, by strengthening and firming your pore walls.
4. Add toner to your routine.
Skin toners and astringents remove oil and fluid from the top layers of your skin to refine and tone your skin's texture, making your pores appear smaller.
5. Embrace retinoids.
Also known as Vitamin A, retinoids promote cell turnover, which removes of debris from your pores, while promoting collagen production.
6. Use primer.
Optical reflectors will help mattify your skin. Try an oil-free primer that's designed to 'blur' your skin.
7. Wear SPF
UVA and UVB rays break down collagen and create free radical damage,which slows down cell production. Protecting your skin from these rays will help maintain a steady cell turnover, which will in turn support your pore structure.
Celebrity news, beauty, fashion advice, and fascinating features, delivered straight to your inbox!