Don't ever dye your hair this colour
It could literally melt off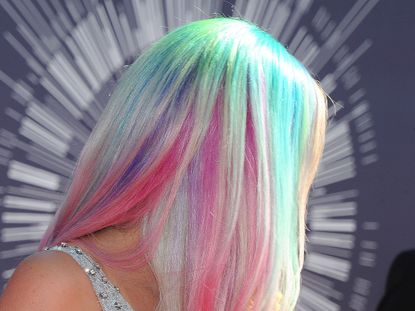 (Image credit: Broadimage/REX/Shutterstock)
It could literally melt off
We all love to switch up our hair colour now and then (we're never one to shy away from trying the latest amazing celebrity hair transformations), but imagine if you went to dye your hair and it literally melted off. The half-shaved head trend is one thing, small bald patches from hair colour gone wrong is another.
According to hairstylists across the internet, this epidemic of hair melting dye is hitting us hard and fast. Why? Because a lot of people are getting their hair professionally dyed in salons and then taking to the at-home bottle for touch ups. So what exactly are these hair stylists claiming? Well, they're suggesting that certain box dyes contain chemicals that don't mix well with other in-salon chemicals, resulting in client's hair literally heating, smoking and melting off. They've even claimed to have seen it with their own eyes.
Can you imagine?
You spend an arm and a leg for a bleach job, followed by the latest pastel hued pink at your favourite salon.
A few weeks pass and you start noticing your black roots peering their unwanted tips through your previously candy coloured mane.
You drop into a boots to stock up on hay fever relief (thanks summer!) and while you're at it, grab a box of hair dye to do a quick DIY job at home.
Everything is going well, you've pasted your roots with bleach and have settled down to the latest episode of Game of Thrones when you notice the smell of burning hair.
Yep, it's yours. FYL!
After a quick rinse, you're left with bald patches and as you wail down your phone to your hairstylist, they say 'tut, tut, baby girl, did you not see the internet?'
It's time for a wig
Now, we're not 100% sold on the fact that box dyes can do this, after all, we've been known to cut a few corners in times of penny-saving and grab a box from our local supermarket, but there's no denying that the thought of our hair melting off is well, hair raising.
For now, we're just going to part with our cash and book into the salon. Pay day IS just around the corner...
Need a shampoo for coloured hair? Powder know exactly what ones you need...
Celebrity news, beauty, fashion advice, and fascinating features, delivered straight to your inbox!